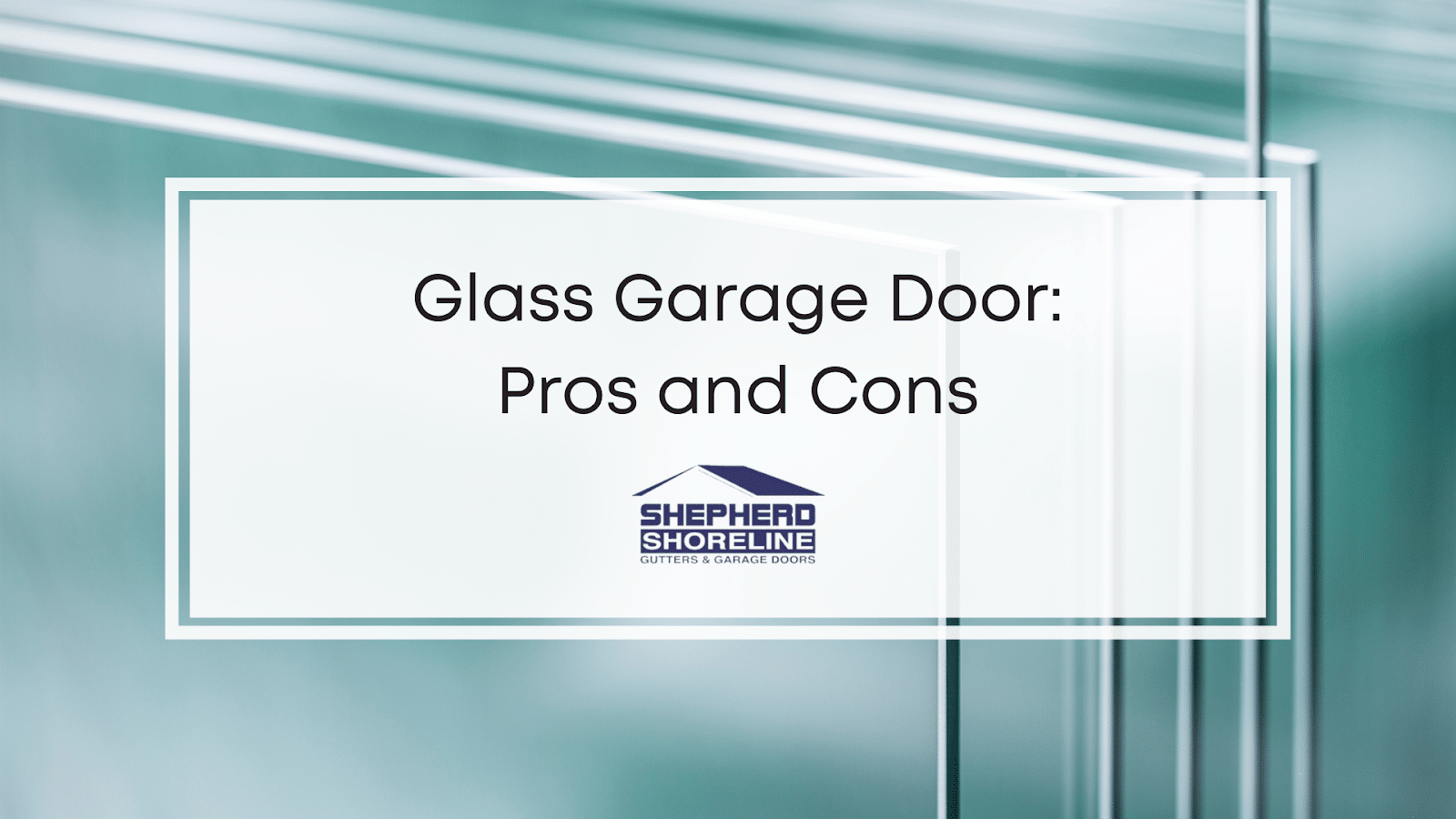 The use of glass garage doors in residential home garages has become a popular trend. This door type has a classy appearance that pairs perfectly with modern home designs. They also offer several benefits to homeowners in addition to their exquisite appearance. Here, we'll talk about the advantages and disadvantages of using a glass garage door for your house or business establishment.
Table of Contents
The Benefits of an All Glass Garage Door
Any garage door material has its benefits and drawbacks. Before getting an all-glass garage door, you should first consider its advantages and disadvantages. Here are some of them:
Pros
Natural Light
All-glass garage doors bring natural light to your garage. The natural light from the Sun transforms your dark garage room into a bright and welcoming space. Having natural lighting also allows you to work without artificial light during the day, saving money on electricity.
Curb Appeal
Having an all-glass garage door increases the curb appeal of your home. Its contemporary design adds elegance and allure to your home's exterior. The modern appearance of glass garage doors also raises your home's market value and attracts many potential buyers.
Low Maintenance
Cleaning the glass panels in an all-glass garage door is as simple as cleaning your home windows. Moreover, you do not need to apply paint or any additional coatings, unlike wooden garage doors. Other parts of the garage door, such as the door springs, rollers, and hinges, must still be maintained regularly.
Durable
You might think that an all-glass garage door is fragile and breaks easily. However, newer glass door panels use tempered glass, which is significantly stronger than regular ones. Tempered glass is a type of glass used in cars; its strength is comparable to wood or aluminum panels. Additionally, glass garage doors do not weather over the years, unlike the traditional wooden ones.
Cons
Cost
Installing an all-glass garage door can be expensive. Glass garage doors are nearly twice as expensive as steel or wooden ones. A set of high-quality tempered glass panels will cost you a considerable sum of money. Plus, the cost of an all-glass garage door rises when features such as tinting, frameless design, and mirrored glass are added.
Insulation
All-glass garage doors do not provide insulation, unlike aluminum, steel, or fiberglass garage doors. During extreme weather conditions, glass garage doors can't keep the garage at a comfortable temperature. A more expensive option is a double glass panel, which can remedy the lack of room insulation. 
How to Choose Affordable Glass Garage Doors
The typical cost of a glass garage door ranges from $900 to $4500. However, it can go even higher depending on your chosen glass garage door materials. The key to having an affordable glass garage door is the right choice of glass options. Avoid overspending on glass panels with features that you do not need. For instance, if you do not require the privacy that a frosted glass garage door offers, you can save $200 to $500 by opting for clear glass instead.  
Here is a breakdown of how much a glass garage door costs:
Average Tempered Glass Door – $900 to $4,500

Frosted Glass Door – Additional $200 to $500

Insulated Glass Door – Additional $800 to $2,300

Garage Door Opener – $175 to $350 with additional $300 for installation

Garage Door Installation – 200$ for single-door garage door type, 300$ for double door

Repair Price – $250
Garage Door Glass Options
There are several garage door glass options to choose from. In picking the right garage glass door that suits your preference, you need to consider the following aspects:
Glass Coverage
You can decide on the number of glass panels your glass garage door will have. Some homeowners prefer one line of glass panels on one side of their garage door for privacy purposes, while others want full glass paneling. Most glass door manufacturers will provide you with a wide selection of glass coverage options.
Glass Opacity
The glass opacity refers to how transparent the glass panels are. Here are some of the typical glass opacity options for garage glass doors:
Clear – completely transparent

Tinted – dark and partially transparent

Obscured – lets natural light in without visibility from both inside and outside

Frosted – diffuse natural light without visibility from both inside and outside

Mirrored – metallic appearance on the outside but allows visibility from the inside
The opacity of your garage glass is entirely dependent on your demands and preferences. For instance, if you want a lot of natural light, a clear glass panel is ideal. If you want extra privacy, you can choose an obscured or frosted glass garage door.
Glass Customization
You can further customize the glass panels for your glass garage doors. To enhance garage room insulation, you can choose insulated glass garage doors instead of uninsulated ones. For your glass panel, you can pick between tempered and regular glass.
We Are Here To Help You!
We at Shepherd Shoreline can provide you with various glass garage door options from our trusted manufacturers. If you live in Whitehall and decide to get a glass garage door, our expert technicians can help you complete your Whitehall garage door installation. Call us at (231) 780-2847 or leave a message here.