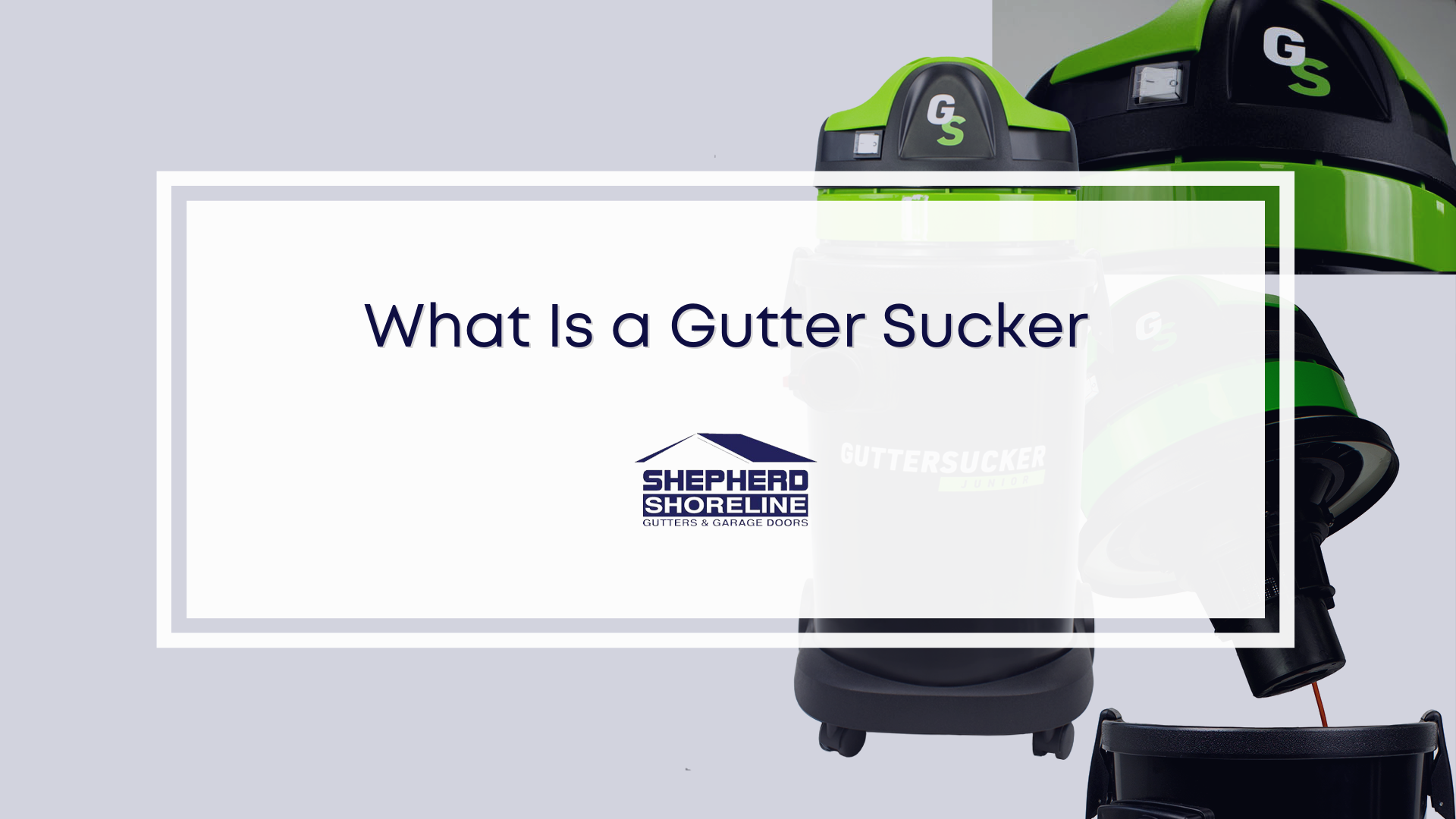 A Gutter Sucker is, essentially, just what it sounds like: a piece of equipment that "sucks clean" severely clogged gutters without using a ladder. They are quickly becoming a popular DIY trend. There are also many ways to do it, but they all have the same parts and functions: connected pipes to reach the gutter without climbing. To learn more about a gutter sucker, let's read our expert's opinion about it below. 
Can You Buy a Gutter Sucker?
While gutter suckers are popular on social media as DIY projects, you can also purchase equipment that works the same way. A famous brand is the SKYVAC® Interceptor Gutter Vacuum, which comes with rods you assemble and a recordable camera. Another brand is the WORX WA4092 Universal Gutter Cleaning Kit, an Amazon's #1 bestseller. This one has 11 feet of reach and can fit almost every major blower brand on the market. You can buy it here.
How to Build a Gutter Sucker
Here's how to make your gutter sucker:
1. Creating the Snoot
To make the snoot, take a 10-inch section of pipe and cut an angled tip at 45 degrees. 

Cut 3 notches at the angled end for suction relief. 

Then, mount a GoPro camera on the snoot.
2. Create the Bend or Elbow
Connect the snoot to a 45-degree elbow and a 3.75-inch pipe section.

Next, join the whole thing to a 90-degree elbow.

Then, start connecting more pipes down to create your long handle. 

Use as many pipes as you need, but remember to keep them light and secure them with PVC cement. 

To make the assembly easier, use male and female PVC connectors. The parts can be easily assembled and disassembled for storage.
3. Attach to a Vacuum
After building your gutter sucker, connect it to a vacuum with a 2″ x 4″ flexible rubber coupler to the vac hose.
4. Start Cleaning
Now you can reach the gutter without climbing the stairs using the gutter sucker. With the GoPro Camera connected to your smartphone, you can see what exactly goes up there. Once in a while, clean the gutter sucker to get rid of any debris that has become clogged. It usually takes an hour to clean a severely clogged gutter. 
Gutter Sucker Pros and Cons
The gutter sucker has its fair share of advantages and disadvantages. Let's discuss them below:
Pros
Creating your gutter sucker is cheap. One builder claimed to have spent only $30 on one. 
Essentially, the best feature of the gutter sucker is that you don't have to climb stairs to reach the gutters.
Many people who have used the gutter sucker swear by its effectiveness. 
Cons
The gutter sucker described here has many parts and pipe components that you would need to obtain and assemble. The truth is, if you have no idea about pipes, you'll likely have a difficult time constructing a gutter sucker. Hence, if you're not handy, you might end up with an unstable pole. 
Many DIYers noticed that the longer the pole, the heavier it weighed, and admitted to their struggle with prolonged use. Thus, it might not be ideal for elders, although they could certainly benefit from its overall function.
It can be tedious to disassemble all those poles and parts and store them all together. Think twice before building it if you don't have the time or space to keep it.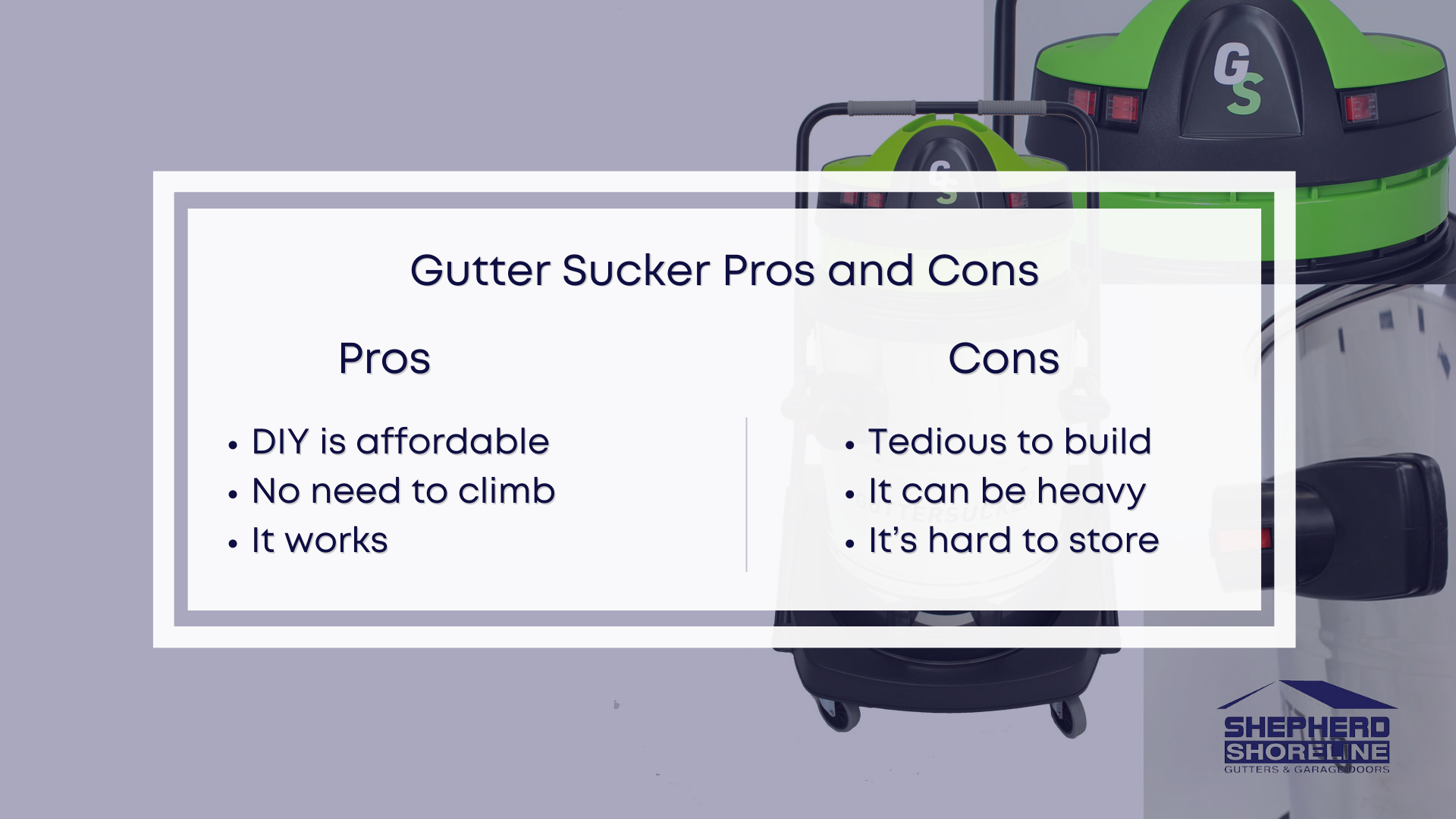 Do You Really Need a Gutter Sucker to Clean Your Grand Haven Gutters?
If you think a DIY gutter sucker could save you a few bucks, you might have to think again. You might waste more money and valuable time building it, only to realize it doesn't work for you. It might end up being too heavy, or if you're unsure of the parts and the process, you may endanger yourself or property if the pole suddenly breaks.  In short, let the professionals handle it for you! You not only get a trusted and reliable expert to clean your gutters, but you also get peace of mind. Letting the experts tackle this kind of maintenance is ultimately a safe, reliable and time saving option. 
Grand Haven Gutters Maintenance Like no Other
Shepherd Shoreline has been taking the best care of Grand Haven gutters for over 50 years. With us, you can relax knowing that your Grand Haven gutters are in capable hands. For your gutter maintenance, reach out to us, and we'll assure you of the best service. Reach us at (231) 780-2847 or here for a free consultation.