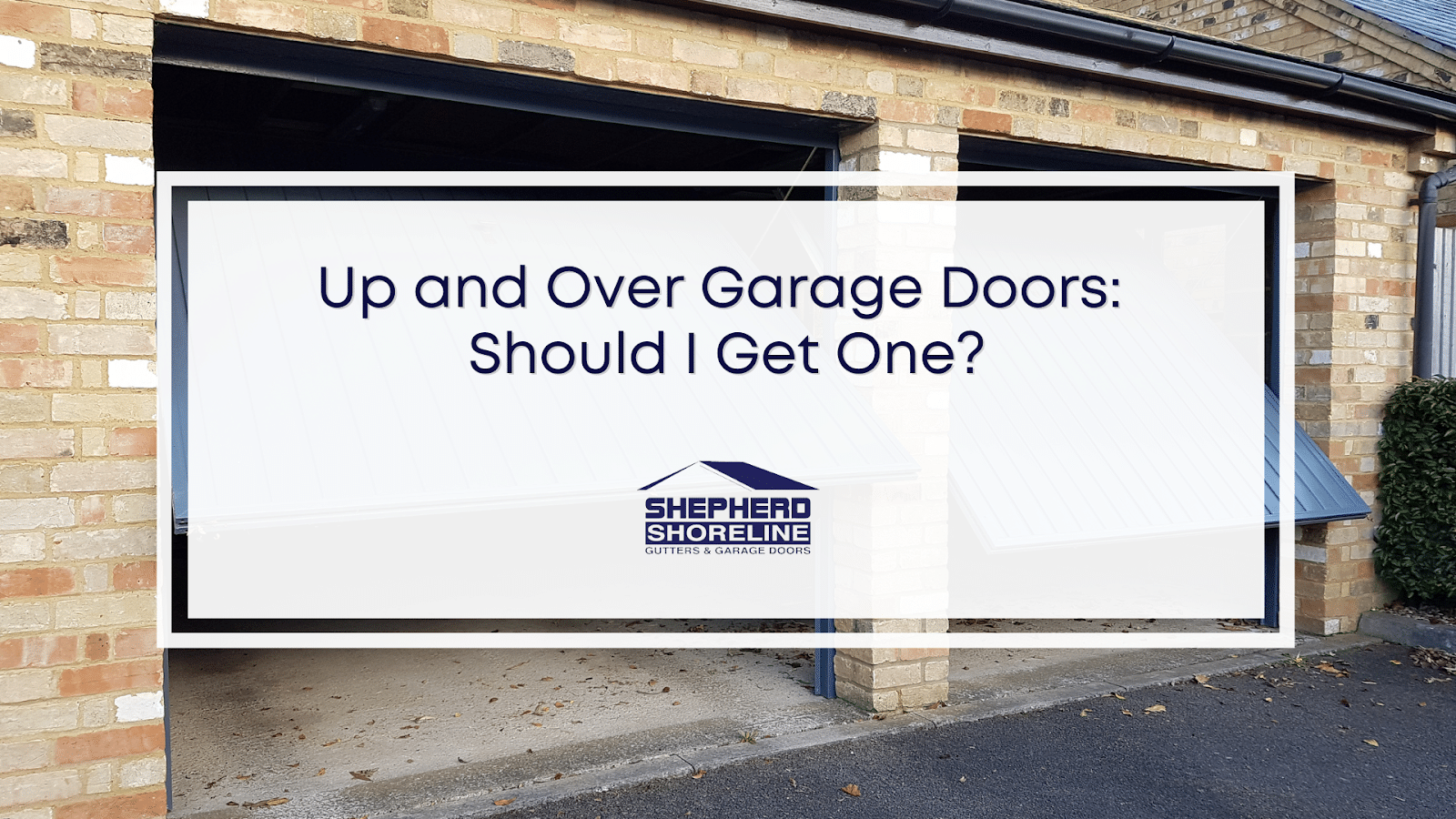 "Up and over" garage doors, also known as "swing doors," do exactly what their name suggests: they swing to open. Unlike other garage doors that roll up, fold, or bend, up and over garage doors are single-paneled doors with a hinge system that allows them to easily swing open manually or electrically.
Up and over garage doors are considered among the "classics," as they were the favorites before sectional garage doors took over. Up and over garage doors could be the right choice if you want simplicity at a lesser cost.. Let our Grand Haven garage door specialists explain the door type's details, benefits, and drawbacks in this article.
Types of Up and Over Garage Doors
Retractable Up and Over Garage Doors
Retractable up and over garage doors are electric doors with horizontal tracks that run back into the garage. As it swings open, it returns to be tucked inside the garage ceiling. Since it's automated, many homeowners choose this because it's more convenient and safer. When the door closes and detects an obstacle, it retracts and reopens to avoid injury or damage.
Canopy up and over garage doors
Canopy up and over garage doors form a "small canopy" as the door swings open and protrudes in front of your garage. It's among the least expensive as it merely runs on lifting gear. You simply turn the handle and push it open; springs keep them in place. While this type was originally manually operated, newer versions now offer electric canopy doors. Furthermore, since it doesn't have tracks inside the ceiling of the garage doors, it provides more overhead space for shelves and other organizers. 
Features of Up and Over Garage Doors
Material Options
There are various durable materials you can choose from for an up and over garage door. The common types are aluminum and steel, which are the most affordable. There are also wood, UPVC, fiberglass, and other options available. 
Color Options
With up and over garage doors, you work with one big canvas. Standard garage door colors are often classic white and almond, but you can turn this traditional garage door type into a stand-out door by designing and using any color and finish that fits your house or personal style.
Security Features
This classic garage door design has basic security features, but newer models offer more. The retractable up and over garage door reverses and reopens when it senses an obstruction. Meanwhile, canopy types have an anti-fall safeguard, a secure bolt that prevents the door from falling if a cable or spring breaks. 
Pros and Cons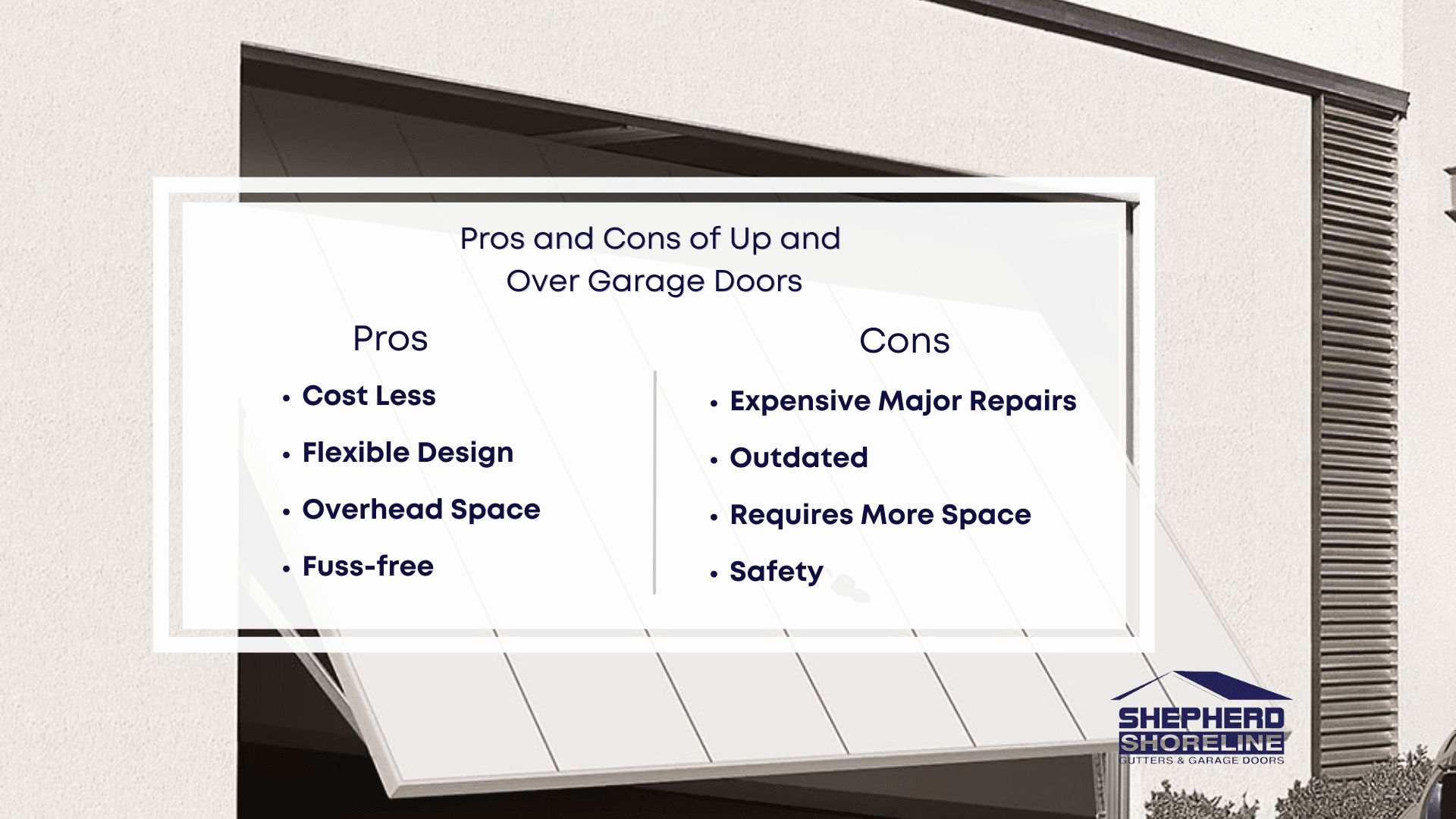 When deciding on an up and over garage door, consider its advantages and drawbacks based on the following important factors:
Factors to Consider

Pros

Cons

Cost or Budget

Cost Less.

They are relatively inexpensive compared with sectional garage doors. Also, minor repairs cost less since single-paneled doors have fewer moving parts.

Expensive Major Repairs. In worst cases, where the door fails due to extreme weather or damage, you must replace the entire door since it's a single slab. This may result in a more costly door replacement.

Style and Design Preferences

Flexible Design. Your design options are limitless. You can go simple with plain colors or bold with more artistic designs, with no sections holding you back. It also gives off a unique vintage, clean, and classic appeal. 

Outdated. The truth is that garage doors that swing overhead are considered older designs. Some might consider them obsolete compared to newer designs like sectionals, side-to-slide, and roll-ups. 

Space and Size

Overhead Space.

You have more room to store large items, equipment, and shelves. With the canopy up and over garage doors, your entire garage ceiling is free for use.

Requires More Space. This type of garage door requires more space to open and close. You need your car to be a few feet away as it opens. 

This could be inconvenient for those living in a closed neighborhood or near the road. 

Other Features

Fuss-free.

These older classics are much easier to work with, especially if you only want a fuss-free garage door. It simply does the job, minus the complexities of having too many buttons and options. 


Safety. It uses extension springs, which, when not properly maintained, could lead to serious injuries and damage. 

These older garage doors also don't have the safety features that newer types do, such as photo eyes, pinch-resistant panels and hinges, and more.

It also has weaker security against forced entry and intruders.
Want an Up and Over Garage Door in Grand Haven?
Just as there are a variety of house styles, there are also various garage door types. If you're considering getting an up and over garage door, let our Grand Haven garage door specialists help you decide. We'll help you choose suitable materials and options for your garage and location. We'll even walk you through the various garage door types, including custom-sized garage doors. Contact Shepherd Shoreline at (231) 780-2847 to schedule a consultation.