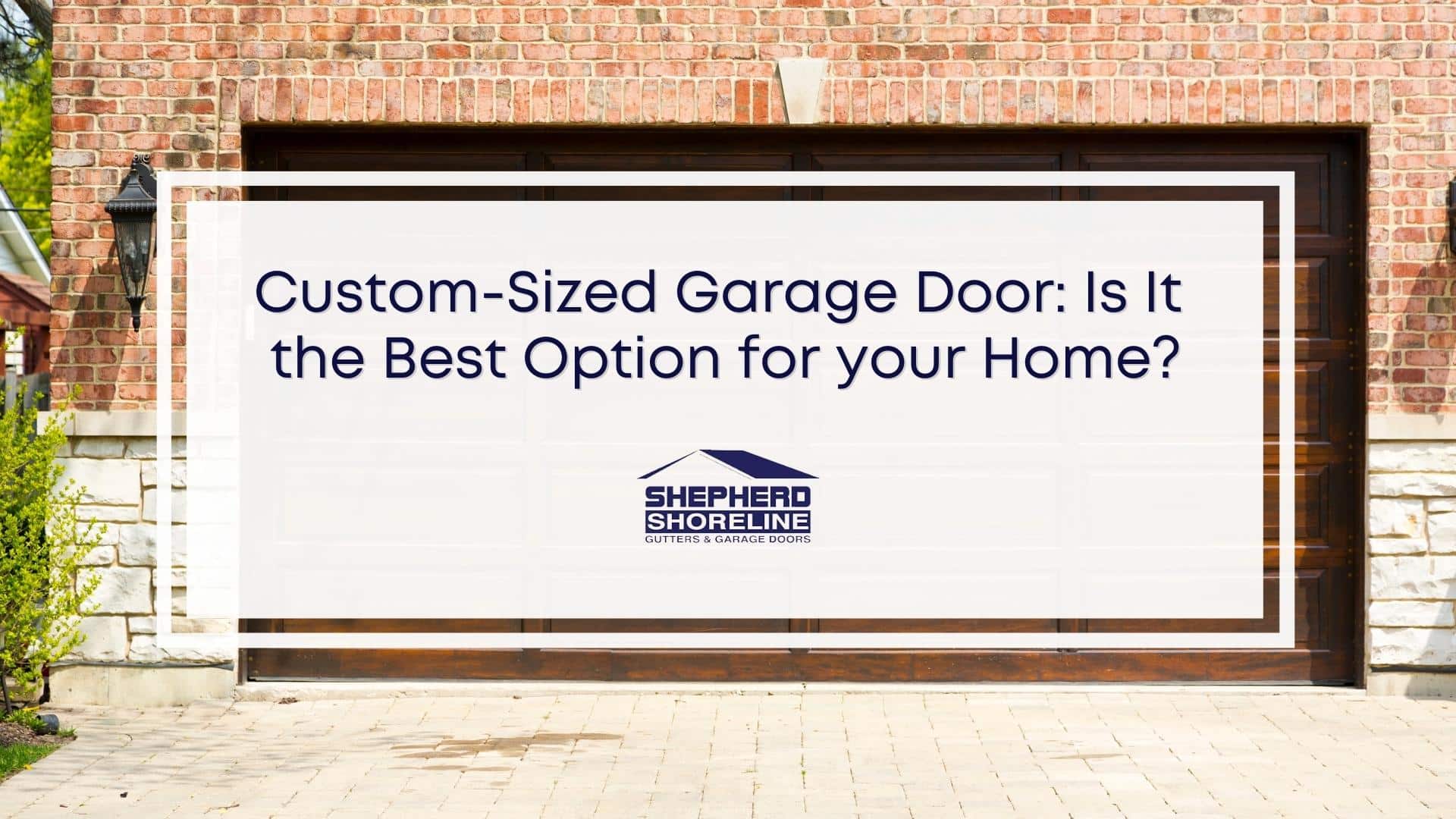 Whether you want a custom garage door for curb appeal or if your garage has a non-standard frame, the answer is up to you! Naturally, there are benefits and drawbacks to choosing a custom garage door size, so it's best to be aware of them to determine whether it's the best option for your house. This article will walk you through the factors and considerations to help you decide if custom garage door sizes are suitable for your home. 
Standard Sizes
Whether it's for one or two cars, most residential homes have the standard size. The standard garage door measurements are:
Single-car standard garage door
The standard size for a one-car garage door is usually 7′ to 8′ tall by 8′, 9′, or 10′ wide. Typically, single-car garages in existing homes are 8′ x 7′, which can be too small if you have a truck, SUV, or other bigger vehicles. 
Two-car standard garage door
If you have two cars, the standard garage door size is 7′ to 8′ tall by 16′ to 18′ wide. Even if they only have one car, many homeowners choose this size because it gives them more storage space and works well with larger vehicles. 
There are many other common garage doors sizes for traditional, carriage house, contemporary, and more. 
Meanwhile, custom garage door sizes do not adhere to any common or standard measurements for garage doors. You can customize it in any shape, size, or style. They are measured and made to fit according to the homeowner's preference, space, needs, and lifestyle. The following parts are measured to determine the proper size for a custom garage door: 
The garage door opening's height and width

The side room – the distance between the left and right sides of a garage door opening

The headroom – the space between the ceiling and the top of the garage door opening

The backroom – the distance between the garage door and the garage's back wall
Benefits of Custom-sized Garage Doors
Increased Curb Appeal
Custom-sized garage doors can improve the overall curb appeal of the property. Curb appeal refers to the house's attractiveness as viewed from the street. A 2020 study shows that a property's value increases by 7% when sold due to curb appeal.
More Space and Style Options
Custom garage doors also give you more options to style and maximize the space on your property. You can customize your doors to match the style of the house or even flaunt your style. It allows you to express creativity with stains and paint colors to make your home stand out. You can choose from various materials, including wood, vinyl, glass, fiberglass, and more. 
Energy Efficient
Frequently, customized garage doors provide better insulation than standard garage doors. The Department of Energy (DOE) explained how good insulation in attics, basements, and garages reduces energy costs by lowering heating and cooling consumption. 
Provide Solutions
A custom garage door size also offers solutions if your garage entrance is at an unusual angle or your property's location is on a unique landscape that cannot accommodate any standard-sized garage door. 
Cons of Custom Garage Door Sizes
Expensive
You can anticipate that custom garage door sizes will cost more because they follow your specifications. Cost estimates consider various factors, including the landscape of the property, the garage frame, and more. A reputable custom garage door installers Muskegon company can provide you with an estimate. 
Lengthy Installation
You shouldn't count on getting your custom garage door installed right away. Custom garage doors require more time to build and install than standard garage doors found at home improvement stores. 
Costly Maintenance 
Depending on the material and style you choose, custom garage doors can also entail added maintenance costs. For instance, wooden custom garage doors require regular upkeep and a fresh coat of paint, compared to standard steel doors. Custom glass doors, for example, require full perimeter weather seals and regular insulation checks. However, you can also check for durable custom door types with better features. 
Professional Custom Garage Door Installers Muskegon
While custom garage doors add a unique touch to your home, they also have drawbacks. If you're unsure if custom garage doors are for you, consult with a trusted custom garage door installers Muskegon company. Shepherd Shoreline's team of professionals can help and provide all the information you need. Reach us at (231) 780-2847 or contact us here.