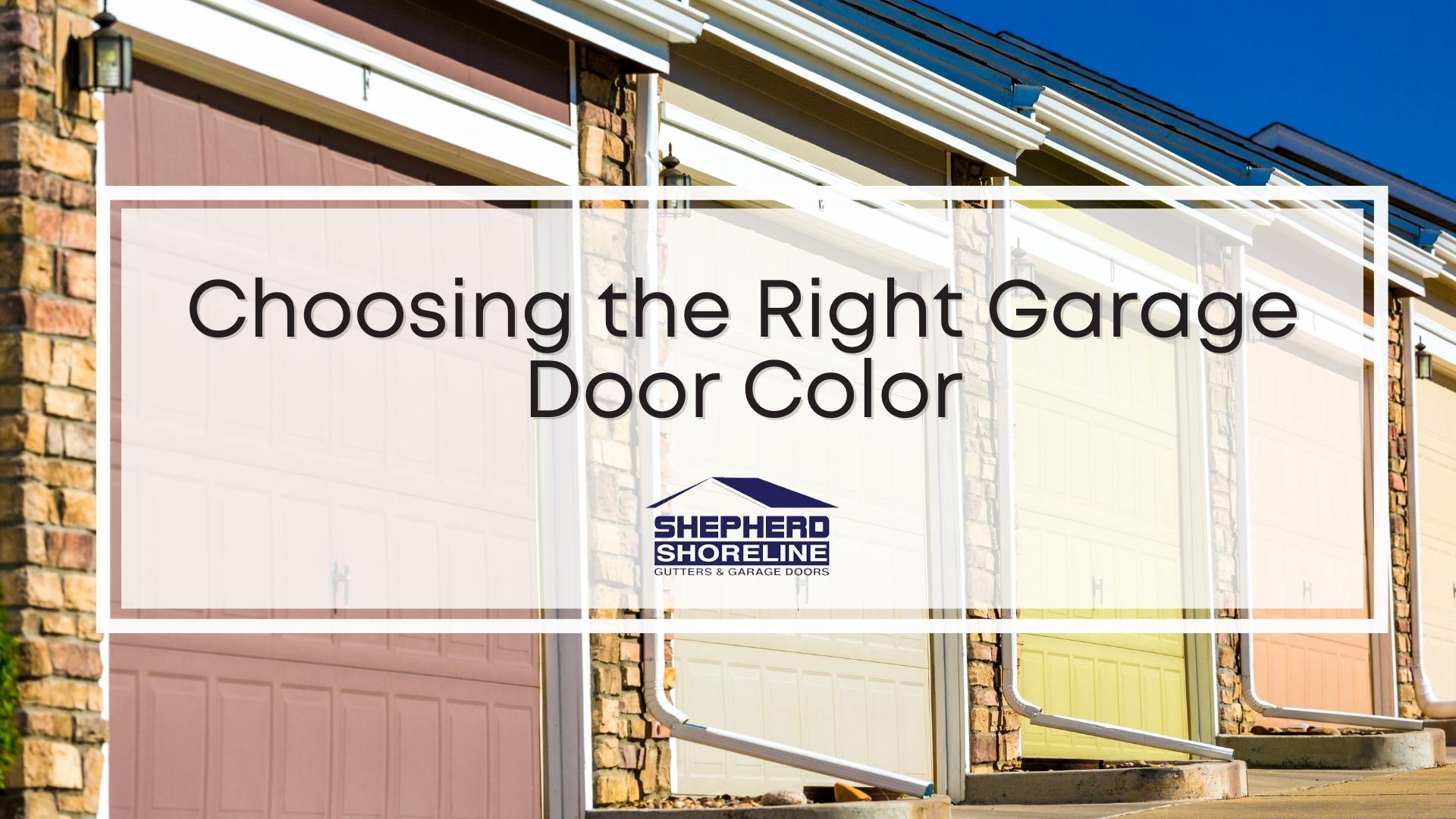 There are a handful of elements that make up the aesthetics of your home, including architecture, material composition, environment, and color. Despite being the easiest to change, deciding on the exterior color can be very difficult for homeowners! Likely you are reading this guide because you're looking for advice on choosing the best garage door color for your home – rest easy, we got you covered! 
Safe Garage Door Colors You Need to Consider First
Before anything else, we would strongly encourage that you first look at these timeless color choices. These are considered "safe" color choices, as in they can work with any house design, and will undoubtedly be available at your nearest paint store in and around Muskegon. 
White
It's available everywhere, and it can act as a primer. The best thing about using white is that it pairs well with any color! It is complementary in almost all instances, giving the impression of 'new' and 'clean'. White is a timeless appearance that will never go out of style. 
Please note that when we say white, we don't mean bright bond paper white. We're talking about white with any prefix, e.g., cotton white, shoji white, etc. Plain, bond paper white will make your garage door look like a giant reflector – something you want to avoid. 
Black
Another garage door color that's typically safe is black. Although not as versatile as white, black works well with almost any contemporary or modern-minimalistic home. Black adds sophistication and elegance. However, you must be careful if your home already has a dark theme. Too much can quickly turn elegance into gloominess. 
Gray
One of our favorite garage door color recommendations is gray. It's a great blend of both white and black. It's calm and pairs well with other colors, which is why most homes depend on it so much. It's speculated that the only issue with gray is that it's too common – the downside of being too dependable. We advise avoiding gray only if your next door neighbors' garage doors are gray, too. 
Brown
The last safe color that we would recommend is brown. It's not as intense as black, but radiates the same elegant vibe. Brown is also warm and calming. Any brown hue will work, but it's best to choose a brown that works in harmony with your home.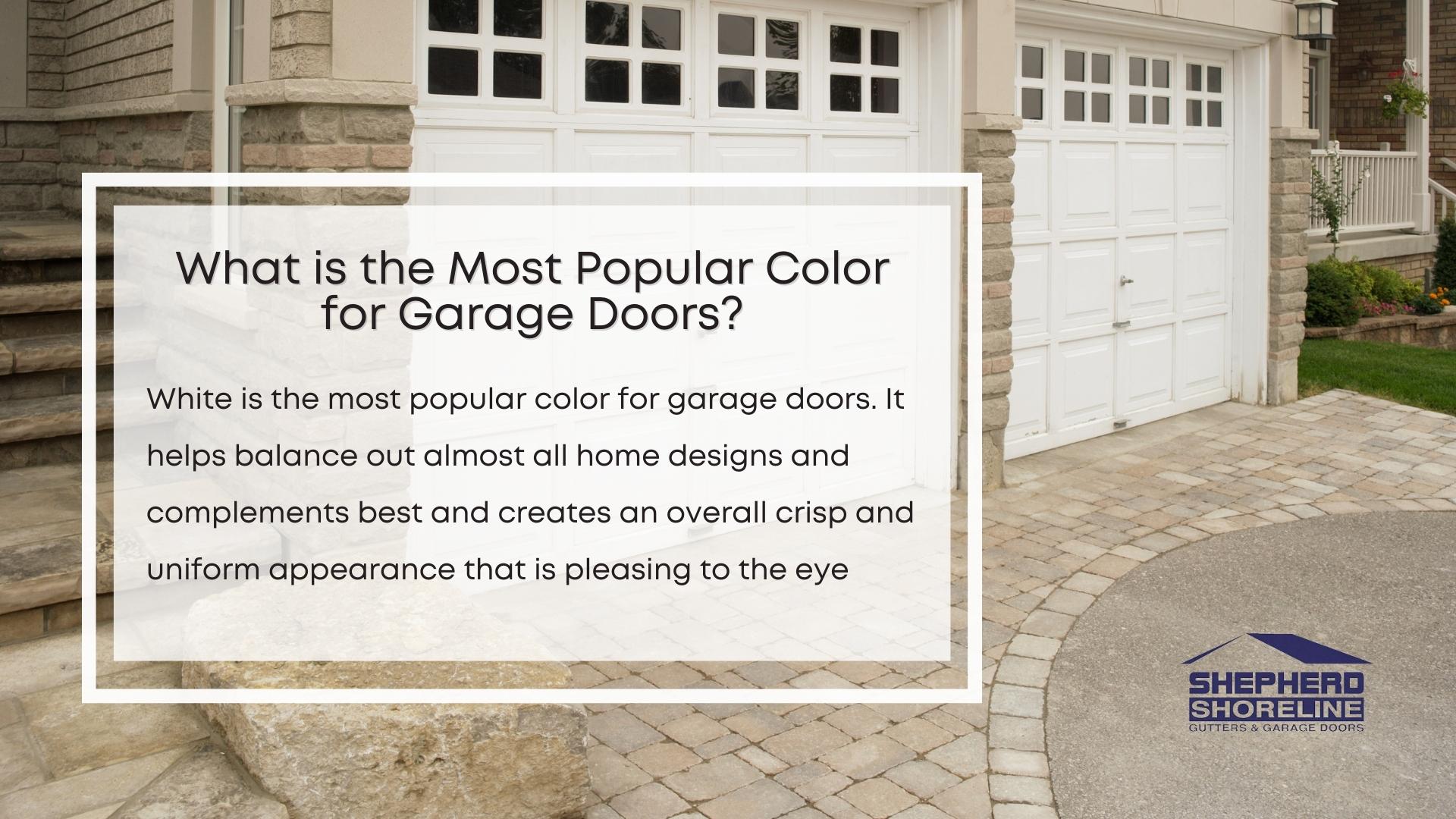 Garage Door Colors That Work Best When Paired With:
You don't need to master color theory to understand how color harmony works. To keep things simple, most objectively beautiful homes follow a three-color theme. 
A primary color (the most used color on your exterior)

A trim color (the color used for awnings, frames, and lines)

An accent color (for doors, shutters, etc.)
You might think that, out of the three listed above, the garage door color should use the accent or trim – but you would be mistaken! Generally, the garage door color should always use the primary color or a few shades higher or lower. You may also choose any of the safe colors mentioned above. 
When the garage door uses the trim or accent color, it can tip your home's color balance. Since the garage door takes a considerable chunk of your exterior, using a highlight color may turn it into an unintentional emphasis – making it the focus instead of a feature. 
Here are a few color themes that work really well (take note that the first color is the primary):
Black + White + Aqua

Hunter Green + Muted Sage + White

Pearl Gray + Slate Blue + White

Warm Gray + Red + Black

Forest Green + White + Lime

Red Brick + Navy Blue + White

Apricot + White + Smoky Gray

Salmon + Jade + Rusty Brown

Chocolate + Chartreuse + Sand
Should You DIY Paint Your Garage Door?
Now that you're more knowledgeable about colors, you might think you're ready for the next step: application. Before you go any further, though, know that painting is not an easy job despite the many DIY videos available on YouTube.
Preparing and cleaning your garage door's surface, buying the tools (rollers, painter's tape, drop sheets, etc.), applying the primer, and knowing the proper techniques can take a lot of time, knowledge, money, and energy. DIY painting can be a very stressful experience due to the awful fumes and, in most cases, the poor quality results.
As a Muskegon Garage Door service provider that knows the value of maintaining a garage door, we would encourage you to hire a professional for paint work if you are not comfortable with all the aspects mentioned above. Paint experts will have the right gear and expertise to give you the best results. 
Conclusion
With so many color options available, we understand how difficult it is to choose one that fits perfectly with the rest of your home. Our experts can help! You can contact Shepherd Shoreline at (231) 780-2847 for a free garage door color consultation anywhere in Muskegon.