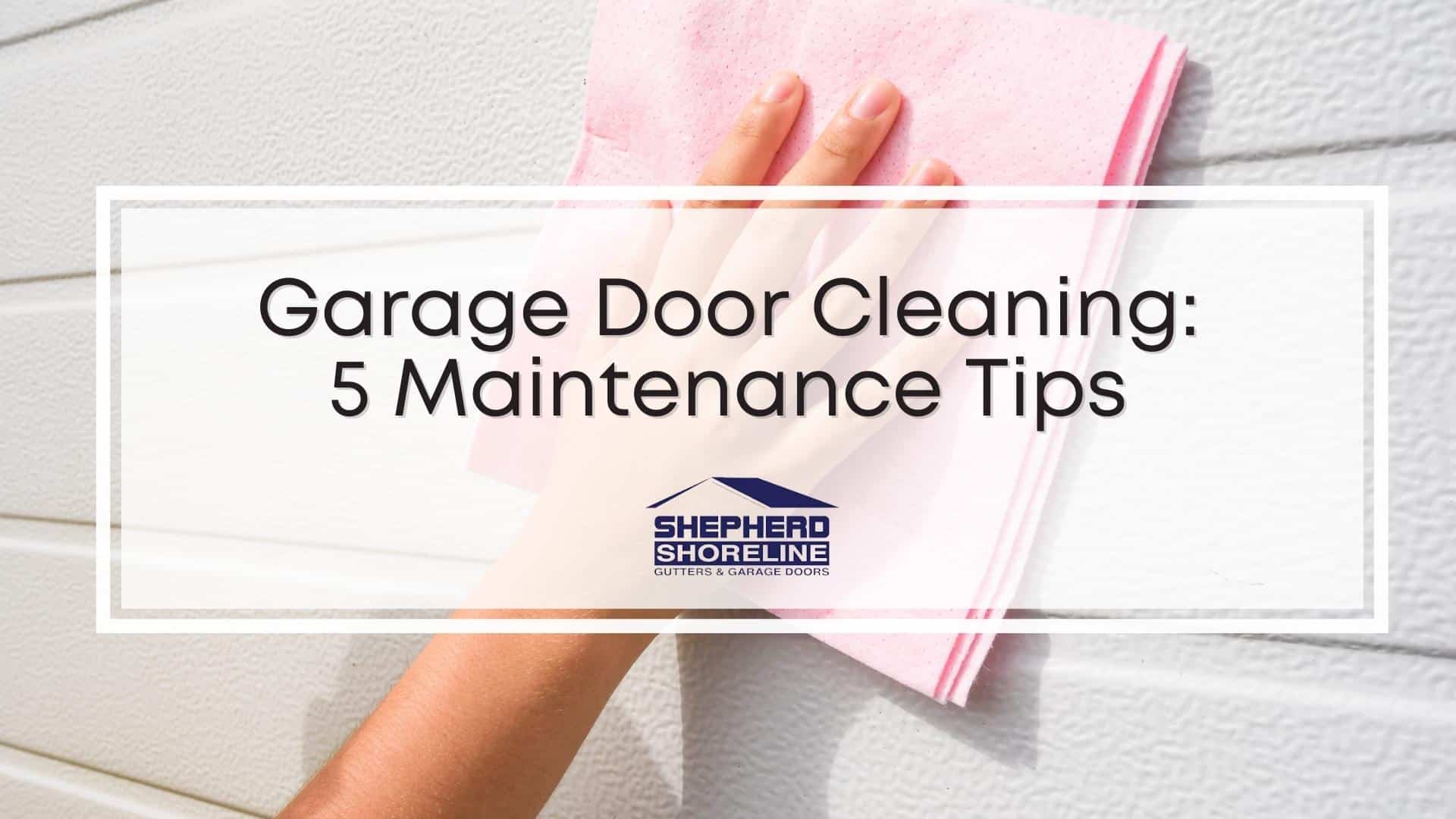 The garage door is essential to every home with a garage. A garage door provides home aesthetics and protects your garage from hazardous elements and theft. However, some homeowners tend to neglect garage door maintenance, increasing the risk of damage to garage door parts or property. This article will provide you with do-it-yourself (DIY) ways of maintaining and cleaning your garage door to prevent unnecessary damage. 
Why Garage Door Maintenance Is Important
A garage door requires regular maintenance and cleaning in order to function properly. Without proper maintenance and cleaning, garage doors can develop problems such as gaps, sensor malfunctions, and rust. If left untreated, these issues can get worse, affecting your garage door operation. Garage door maintenance and cleaning prevent you from incurring further costs for repairs and replacement, saving you money in the long run.
Five Ways to Maintain and Clean Your Garage Door
As a homeowner, you can avoid garage door issues if you regularly maintain and clean your garage door. As a perk, having a well-maintained garage door increases your property's value. To keep your garage door's appearance and function, here are five garage door cleaning tips that you can employ:
Own Garage Door Tools
Garage door tools are essential in doing quick fixes. Having tools can help you quickly fix minor garage door problems. Locking pliers, winding bars, and other hand tools are required in doing garage door repairs. Additionally, safety gloves and eyewear can protect you from potential hazards while fixing your garage door. Ladders can also help you reach the upper portions of your garage door.
Always Have Lubricant
A motorized garage door provides you with a convenient way of opening and closing it. Over time, though, the hinges, tracks, and springs can crack or break under prolonged stress. Having a garage door lubricant can help maintain the function of these parts.
Applying a garage door lubricant keeps the smooth operation of your garage door, and can also help prevent undesirable screeching-like noises.
Check the Hardware Devices
Hardware devices, such as nuts and bolts, can incur some problems as time goes by. Some hardware tends to get loose and accumulate rust. Inspect your hardware devices regularly. When they get loose, tighten them. When they become rusty, replace them.
In addition, make sure that your garage door tracks are appropriately aligned. Misaligned tracks can negatively affect your garage door operations. Investigate the cause of track misalignment by checking for hardware damage, and repair if possible. If you are unable to fix the damages on your own, you can request assistance from a Muskegon garage door repair expert.
Clean the Tracks
Cleaning the tracks can be a tedious task. However, it must be done to ensure smooth garage operations and to avoid issues that could lead to damage. Clean your tracks by simply using an old toothbrush to brush off dirt. Also, remember to apply a lubricant once all the dirt has been removed. You can avoid unnecessary problems by cleaning your garage door tracks, saving you money on repair costs.
Wash the Exterior
While maintenance of garage door parts is essential, it is also important to maintain and clean its exterior. Wash the exterior using soap and a hose and dry it off with a clean cloth afterward. Regular washing supports a clean look and helps maintain your home's market value.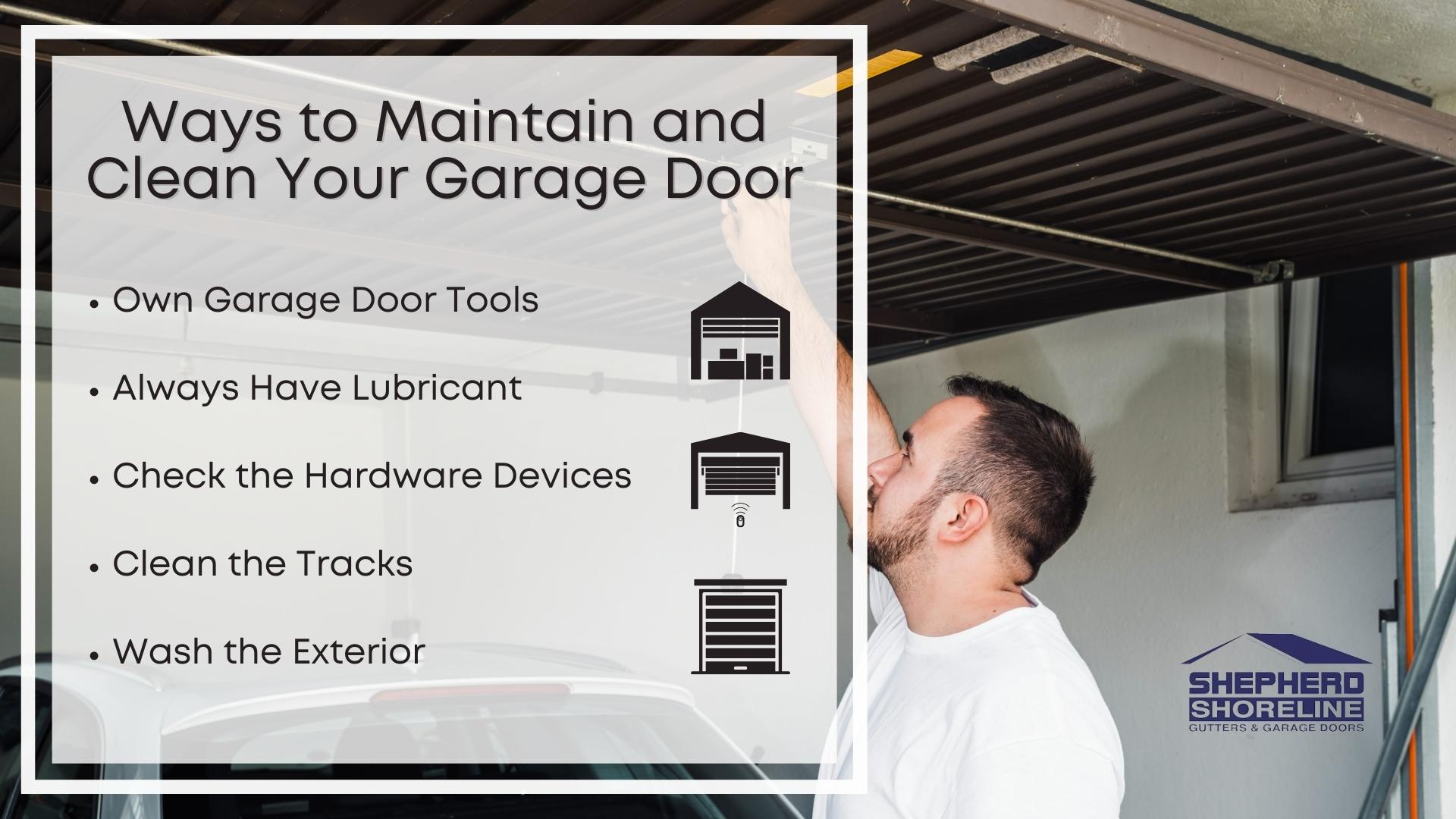 Cleaning Traditional vs. Glass Garage Door
Relative to the style and materials used, there are several varieties of garage doors. Each type of garage door is cleaned and maintained differently. Traditional garage doors, for example, are cleaned differently than glass garage doors. Traditional garage doors have a classic design with closed panels that you can customize. On the other hand, glass garage doors have clear, tinted, or obscured glass panels to bring natural light into your garage.
Here is how you can clean each garage door type while considering their differences:
Traditional Garage Door
You can clean your garage door exterior with soap and a hose. A mild dishwashing liquid is the best soap option for cleaning traditional garage doors. Be gentle while scrubbing to avoid damaging the paint. 
Glass Garage Door
Like traditional garage doors, you can also use mild soap and warm water to clean glass garage doors. It is recommended to use a soft sponge for the cleaning process. You can also use a squeegee tool to help prevent watermarks on the glass.
We Can Help You
Garage door maintenance and cleaning are vital to prevent garage door problems that lead to costly repairs. You can clean and maintain your garage doors by following the DIY garage door maintenance tips mentioned in this article. Be forewarned that performing repairs incorrectly can potentially cause more damage, which would ultimately negate any money savings. Using a professional garage door repair service can help you prevent costly repairs and avoid unnecessary damages.
If you are in or near Muskegon, we can assist you with your garage door needs. We at Shepherd Shoreline provide Muskegon garage door maintenance and cleaning services to keep your garage door functioning properly. We also offer Muskegon garage door repairs when needed. Contact us anytime at (231) 780-2847 or leave a message here.