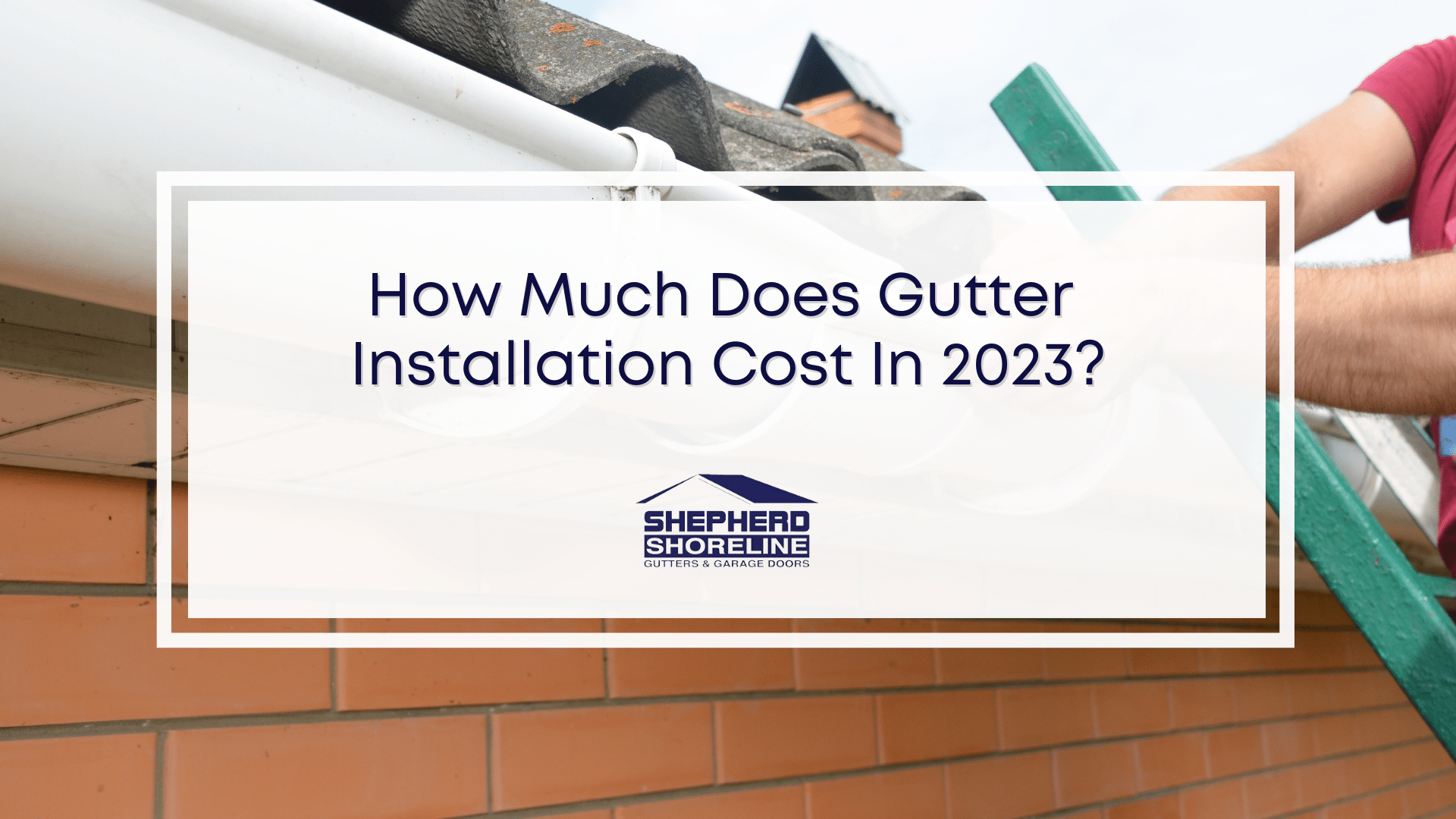 Installing gutters and downspouts in Muskegon, Michigan, could cost you an average of $1,100. Depending on your chosen material, this cost could go up or down significantly. Meanwhile, the national average price is around $2,300, or about $4 to $30 per linear foot.
If you think gutters are too costly to spend on, you might want to think again. Gutters are necessary investments for your home. In addition to collecting rainwater, a good gutter system helps prevent foundation erosion and water damage, and even increases your house's property value. 
In this article, our expert Muskegon gutter installers will show you the cost of a gutter installation. Additionally, they will explain the pricing and why it's essential to go for a properly installed and good-quality gutter. 
Gutter Pricing Explained
The overall cost of your gutter installation varies depending on several factors. Here are some of them:
Gutter Materials
Your gutter installation cost could significantly differ depending on the materials used. These materials have their advantages and drawbacks, so it's best to do proper research and seek the advice of expert Muskegon gutter installers. Here is the estimated pricing for different materials and their differences: 
Material
 
Advantages and Drawbacks
 
Average Price Per Linear Foot
 
Cost for 200 Linear Feet

Vinyl

 

Most popular choice because it's the cheapest

Easy to install

Not very durable compared to other types

 

$6

 

$800 to $1,400

Aluminum

 

Lightweight and ideal for DIY projects

Average lifespan is 10 to 20 years

Prone to cracking more than other metal gutters

 

$12

 

$1,600 to $3,000

Steel

 

Durable and can last up to 30 years

Needs professional installation

Great for areas prone to cold winters, such as Michigan

 

$9

 

$2,000 to $2,400

Zinc

 

Low-maintenance because it's pre-weathered

Rust-free and scratch-free from falling debris

Average lifespan of up to 80 years

 

$19

 

$2,400 to $5,000

Copper

 

More expensive

Aesthetically good looking

Can last up to a lifetime with proper care

More expensive installation because you also need copper fittings, nails, etc. 

 

$23

 

$3,000 to $6,000
Gutter Sizes
Gutter size is crucial because it will determine how much water it can hold. An incorrectly sized gutter could break if it fails to handle the amount of water. The Michigan Plumbing Code states that the size of gutter downspouts shall be based on the flow rate of the roof surface and local rainfall rates. The size for a standard gutter is 5 inches wide, but larger sizes are available. While the rule of thumb is "the bigger, the better," it also means more expensive.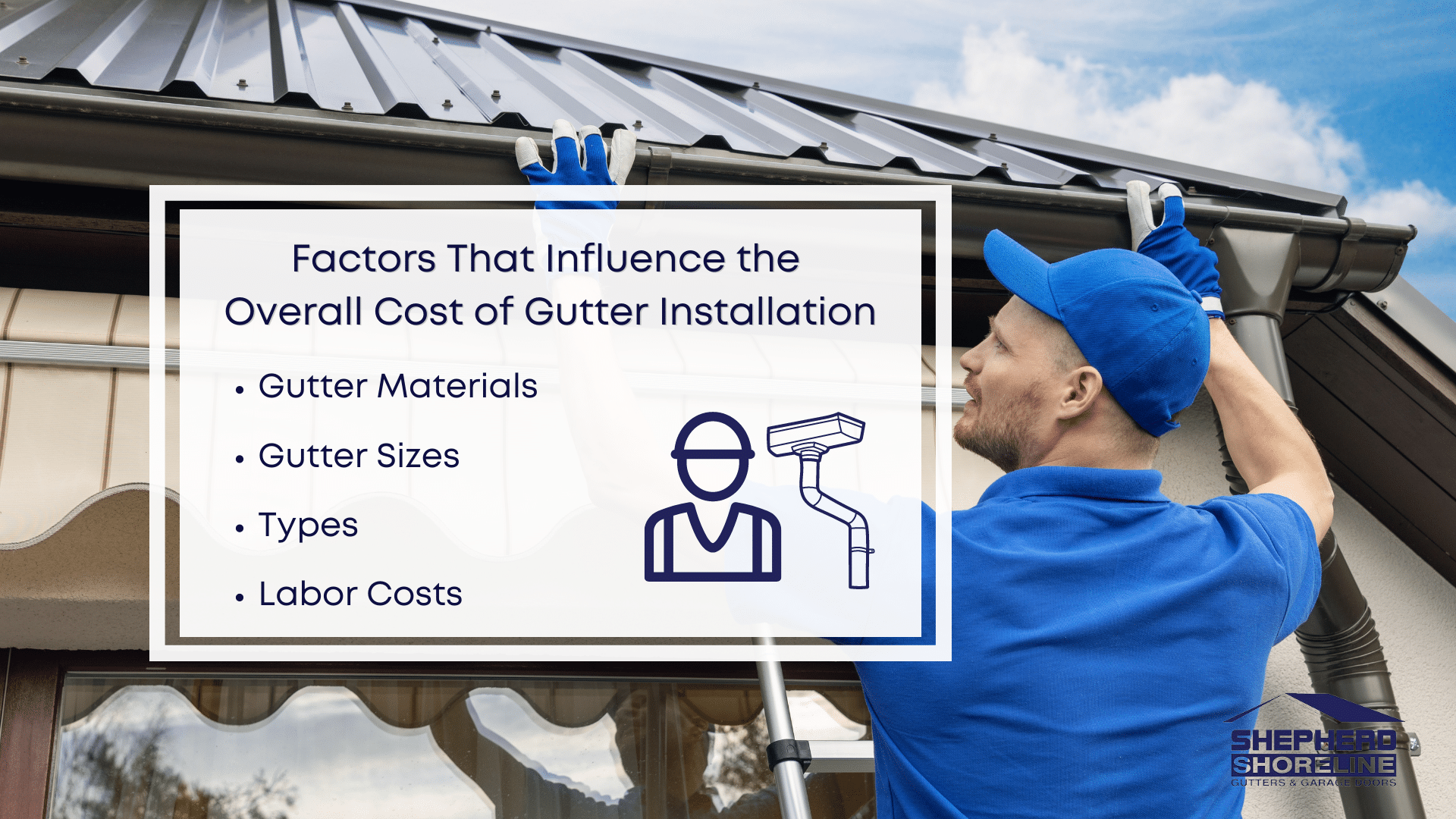 Types 
The type of gutter used is also a significant factor in the total installation cost. When choosing a style, consider the cost of materials, the labor cost, and its suitability based on the amount of rainfall in your area. Here are some common gutter types, along with their estimated prices and differences: 
Gutter Type
Advantages and Drawbacks
 
Average Price Per Linear Foot

 

 

 

 

K-Style

The most typical residential type with a flat bottom and a curved edge

Efficient and has a good water capacity

 

$3 to $37

U-Shaped or Half-Round 

More difficult for DIY installation

Its smooth interior prevents corrosion

Increased water flow

Easy to clean

 

$3 to $34 

Fascia

Offers a smooth, attractive look

Usually larger and deeper, holding more water

Difficult to clean because they are deep

 

$4 to $30 
Labor Costs
You should expect most of the budget to be allocated to labor costs. Labor prices are higher for gutter materials, such as steel or copper, that are harder to work with. Furthermore, expect to pay more if your house has a complex style and needs custom work. Also, if your area has extreme weather conditions requiring extra gutter reinforcements, that means more work and pay. 
Average Gutter Installation Cost in 2023
Here's a quick comparison of Michigan and national gutter installation costs in 2023:
| | | | | |
| --- | --- | --- | --- | --- |
| | | National |   | Michigan |
| Average Cost |   | $2,300 |   | $1,100 |
| Lowest Cost |   | $600 |   | $350 |
| Highest Cost |   | $8,000 |   | $2,000 |
You can save around 50% to 60% on the average cost if you opt for DIY. Based on the average installation cost in Michigan, you could end up with a budget of $550. It may look like a good deal, but there's always a catch. DIY gutter installation comes with risks and dangers that could cost more than the savings. Here are some of them:
Risk of injury

No warranty protection

Incorrect measurements

Wrong choice of materials

Broken or weak gutters

Risk of wall and roof damage
Let Professionals Handle Your Project
Gutter installation by a professional may seem more expensive upfront. However, it can save you money and even offer more rewards in the long run. For one, gutters improve your home's curb appeal. Studies show that a house's property value increases by 14% if it looks nice, meaning you can get more money when you sell it. Also, an improperly installed gutter can damage your home and waterlog your lawn, requiring costly repairs and renovations. Furthermore, the pros usually provide a warranty for free repairs. So, get your money's worth! Trust our expert gutter installers at Shepherd Shoreline to provide the best service. Contact us here or call (231) 780-2847 to schedule a consultation.