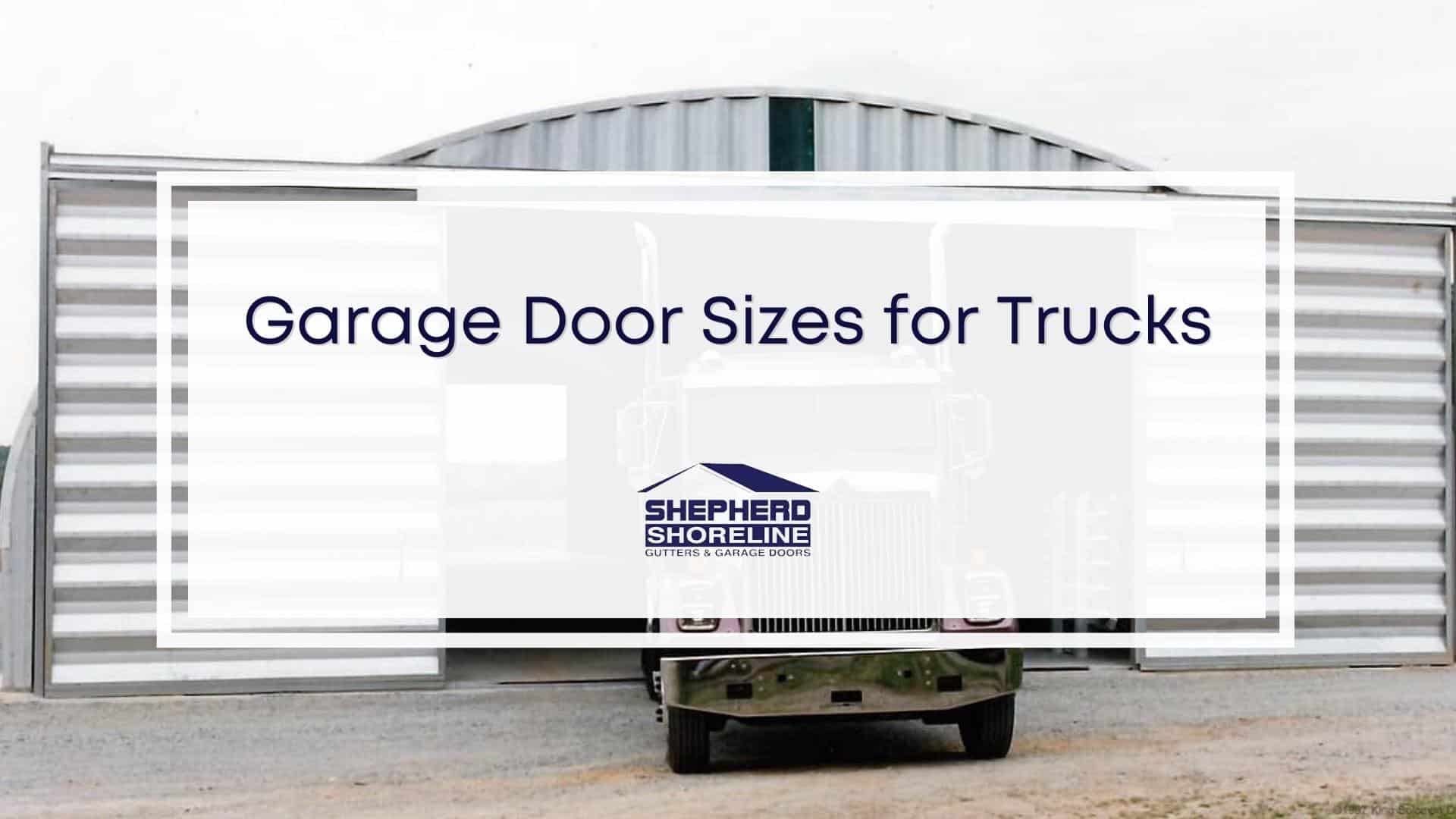 Choosing the right commercial garage door for trucks is essential for your business. A poorly sized door can be a major inconvenience, especially if your trucks enter and exit your garage frequently. Furthermore, a wrong-sized door can pose safety risks. Attempting to force a truck through a door that is too small may lead to damage to both the door itself and the truck, potentially causing accidents or operational disruptions.
There are several factors to consider when choosing the right garage door size. If you're unsure where to begin with measuring your garage door and truck, our Spring Lake garage door specialist will give you everything you need to know.
Standard Garage Door Sizes for Trucks
The size of your garage door will depend on the category of your truck. The Federal Highway Administration (FHWA) classified vehicles into eight classes based on their gross vehicle weight rating (GVWR). The GVWR represents the total weight of the vehicle, including its own weight as well as the weight of any cargo or load it carries. However, trucks are commonly classified into light, medium, and heavy duty. 
Understanding the differences between the three categories is crucial when deciding on the size of your garage door because it will determine whether you will need to use a standard or larger size. Here's a quick look at the different categories, descriptions, and standard garage door sizes:
Description
GVWR
Standard Garage Door Size

Light-Duty Trucks

Usually used for personal transportation and light-duty work,

Examples: Pick-up trucks, small SUVs

6,000 to 10,000 pounds

8 feet wide x 7 feet tall – fits a standard pick-up truck

10 feet wide x 7 feet tall – fits a full-size pick-up truck

Medium-Duty Trucks

Usually used for commercial purposes

Examples: ambulances, delivery trucks, motor homes, utility vehicles, package and parcel trucks, etc.

10,001 to 26,000 pounds

12 feet wide x 8 feet tall – fits a semi-truck

14 feet wide x 8 feet tall – fits a box truck, fire truck, etc.

Heavy-Duty Trucks

Large and heaviest types of trucks

Examples: all tractor-trailer combinations, military trucks, construction vehicles, etc.

26,001 to up to state limit

16 feet wide x 8 feet tall – fits military trucks or other heavy-duty trucks
Custom Garage Door Size for Trucks
If your trucks are too tall for standard garage doors, you can invest in custom-sized doors to ensure enough clearance. Doing this lets you move your trucks into and out of your garage or warehouse and provides the garage door with adequate space to slide across the garage space's ceiling. Custom garage doors are specifically tailored to accommodate the dimensions of your trucks. Generally, these doors come in sizes ranging from 12 to 32 feet wide and 8 to 24 feet tall.
Common Garage Door Types for Trucks
The type of garage door you choose is as important as its size to ensure your garage's security, safety, and energy efficiency. Here are some standard garage door types commonly used commercially: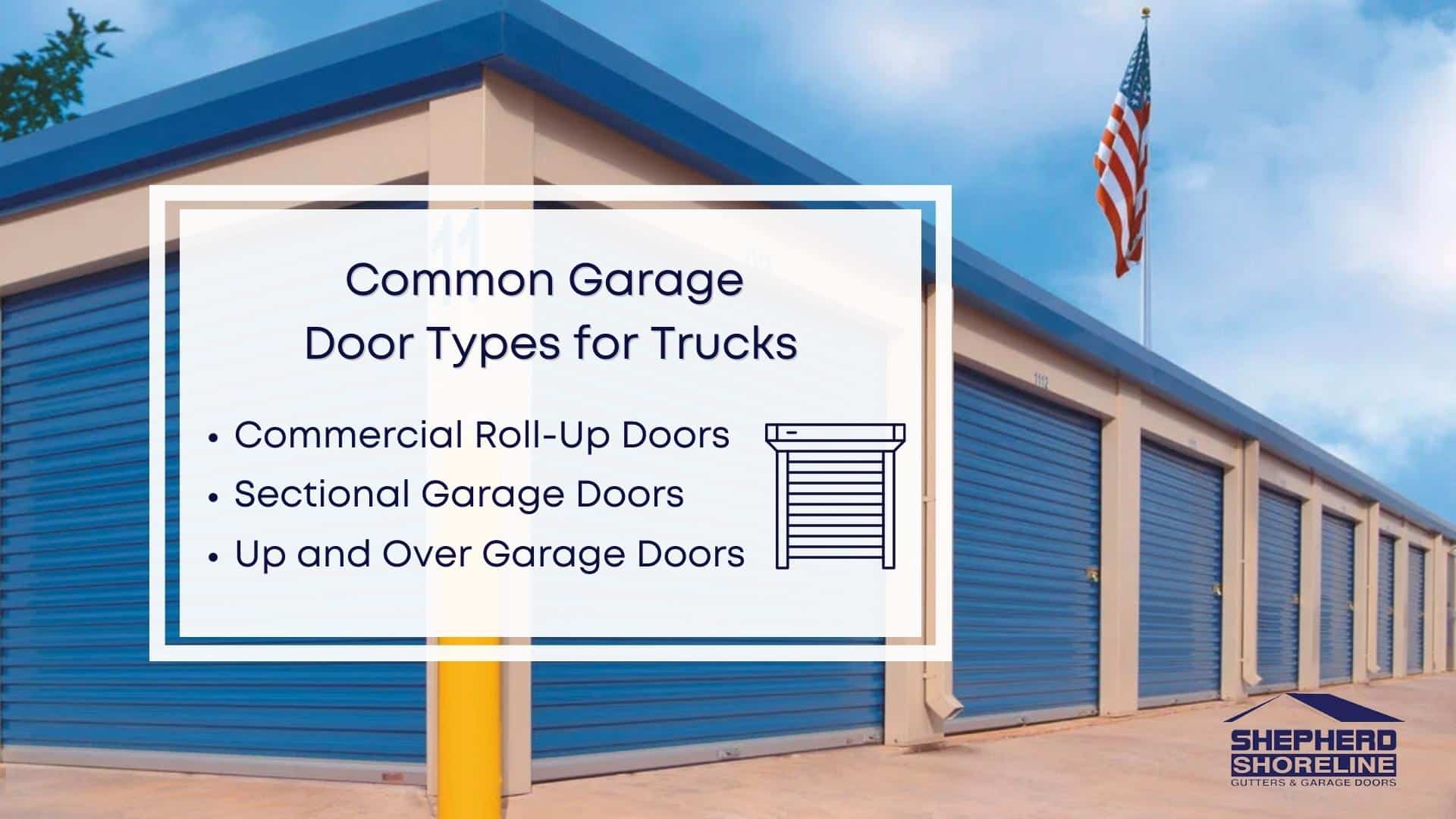 Commercial Roll-Up Doors
They are often preferred because they are lightweight, durable, and ideal for high-traffic facilities. These garage doors are also space-saving, meaning they're great if you have limited space or headroom.
Sectional Garage Doors
Sectional garage doors are also a popular choice for facilities or warehouses. They are ideal for those with extra headroom, as they fold and hide overhead. Furthermore, sectional garage doors are energy-efficient due to their excellent insulation, which is critical in many business operations.
Up and Over Garage Doors
These single-panel garage doors have a hinge system that makes it simple to swing open manually or electrically. They are helpful for businesses that must keep their garage doors open for extended periods. Additionally, these are a good choice for companies with limited space or needing to open and close their garage door quickly and easily.
Maintenance and Care for Garage Doors
Garage doors are essential to your business and must be maintained regularly to keep them working correctly and safely. A well-maintained garage door can increase productivity by making transferring goods easier and faster and making your property more secure. 
While you can use a garage door maintenance checklist, it is still recommended that you have your garage doors checked by a Spring Lake garage door repair professional at least once a year. An expert has the necessary skills and experience to inspect and repair any damage before it becomes a major, costly repair. Therefore, a well-maintained garage door will save you money over time. 
Let Garage Door Experts Grow Your Logistics Business in Michigan
Investing in garage doors is a wise investment for your business. It contributes to your business' productivity and logistics and can also improve your brand image and make your business look professional. Our Spring Lake garage door repair specialists and garage door installers can help you with all your garage door needs, from regular maintenance to complete renovations. Reach us here or call (231) 780-2847 for a quotation.