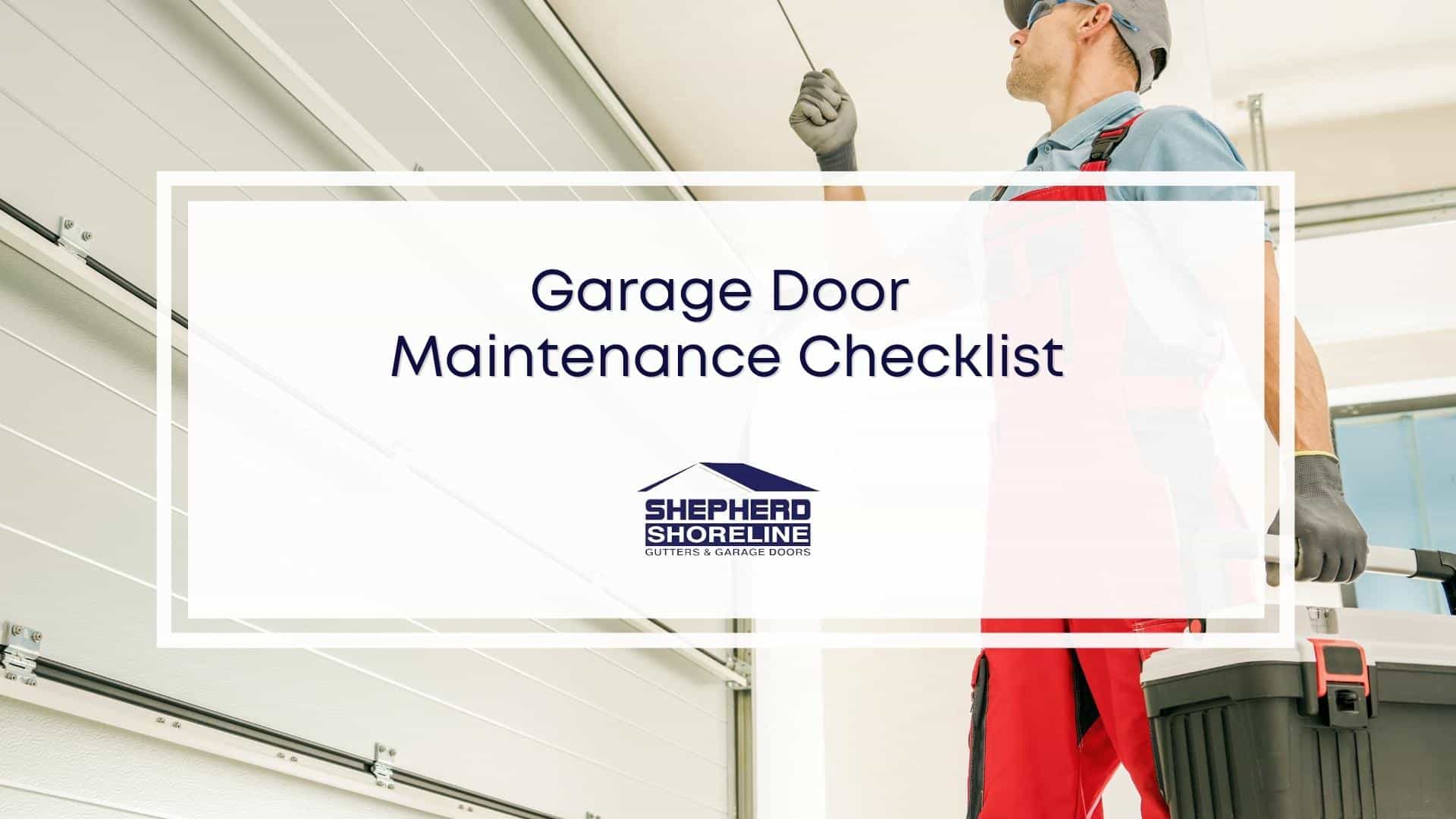 Maintaining your garage door in good working condition will help it run more effectively and last longer. If you're unsure where to begin when checking your garage doors, we've put together an easy garage door maintenance checklist.
1. Check and Test Your Garage Door Visually
You can begin crossing off items on our garage door maintenance checklist by doing the following:
Check for creakings or loud noises by opening and closing your garage door several times. Any unusual noises could indicate a malfunction, damage, or a component problem. 

Inspect the doors for rust, dents, molds, and cracks; no matter how minor they appear, they must be repaired or replaced.

Check weather seals. See any gaps or holes in the top and sides of the door that might allow light or unwelcome drafts to enter.

Winter sealing your garage doors is extremely necessary

, especially during the cold season. Furthermore, the

Department of Energy (DOE) states that weatherstripping

is an excellent way to lower energy costs and improve indoor comfort.

 

Test the door's balance. When the door is out of balance, it puts undue strain on the automatic opener, making it harder to open or causing it to malfunction. Your door is out of balance if it is difficult to open or if it drops after being manually raised. It would be best to have it checked by a garage door repair and maintenance Muskegon professional.
2. Inspect Moving Components
A garage door contains complex moving parts to keep running efficiently and safely. Inspect the hardware for any loosened nuts and bolts, then tighten them. Some of the parts you should check are:
Rollers – Ensure the rollers are running smoothly. Look if there are signs of rust or damage.

Cables and pulleys – You can check visually but avoid fixing loose or damaged cables and pulleys yourself. Let a garage door repair and maintenance Muskegon professional handle it for your safety. 

Hinges – These are essential components that join the various parts of your garage door together. Check out for broken, damaged, crooked, or loose hinges and stuck hinge pins. Squeaky noises are also a sign of damage. 

Vertical and horizontal tracks – Dirty, worn out, or rusty tracks will make your doors difficult to open and close. 
3. Check Auto-Reversal Features 
Your garage door's auto-reversal features are an essential safety component. When you open the door, it should automatically reverse if it detects an obstruction. 

Test the photo-eye sensors and check for alignment. The green LED light blinks when the sensors are aligned and turns red when they are not. 

 Wipe clean the sensors to remove possible dirt that might cause obstructions. 
4. Inspect the Garage Door Opener
Check if the batteries on the remote are still working.

Check the wire connections of the door opener to your home's electrical system. Test the backup battery if it needs to be replaced. 

Check and replace broken light bulbs in your garage. 

Check motor gears for damage or rust.
These steps can be risky if you're unfamiliar with electrical systems. So, leaving it to a garage door repair and maintenance Muskegon professional is best.
5. Wash and Lubricate
Give your doors a good washing with mild soap, a soft brush, or a rag. Avoid using an abrasive brush. Not only does it scratch the paint finish, but it could also damage your weather seals. 

Wipe the interiors and exteriors to remove dirt, grime, rust, or mold. 

Silicone lubricants are considered the top choice when lubricating moving parts. If you have nylon rollers with closed bearings, you don't need to lubricate them.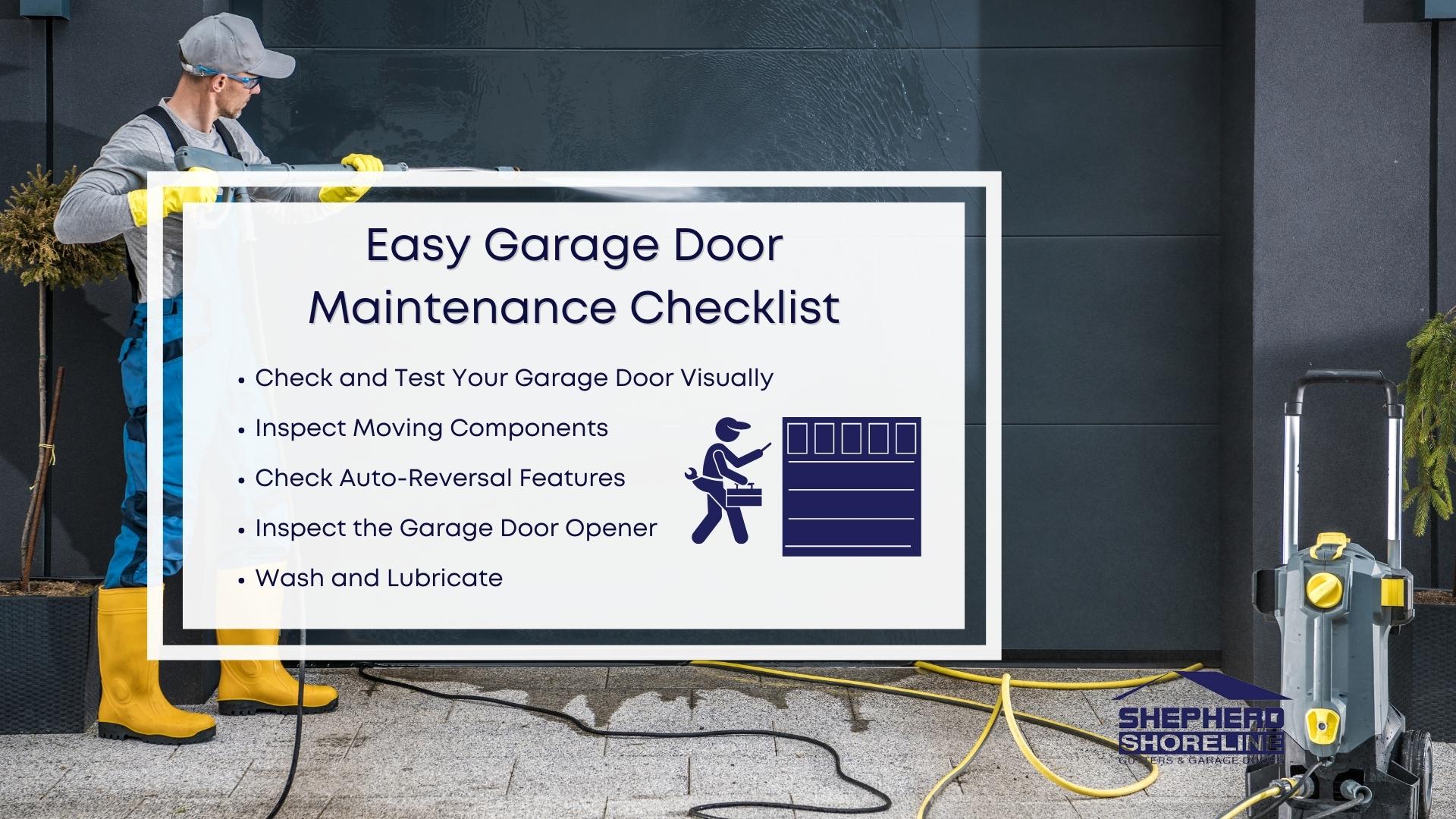 Benefits of Keeping Your Garage Door Well-Maintained
Keeping your garage door well-maintained is a good way of ensuring it works efficiently, lasts longer, and keeps you away from unexpected repair costs. Unaligned tracks, faulty wiring, and an out-of-balance door are some of the major safety hazards that could endanger you and your family. 
Even seemingly minor issues, such as a small dent, dirty tracks, or broken garage lights, are critical elements that, if ignored, can lead to costly issues such as a total door replacement. Additionally, a well-maintained garage door will keep floods, rodents, and thieves at bay. 
Professional Garage Door Repair and Maintenance
Going through this garage door maintenance checklist may seem simple; however, doing it on your own may trigger anxiety and even put you in danger. Hire a garage door repair and maintenance Muskegon professional with a good and trusted reputation to save yourself the trouble. Have peace of mind and reach us at Shepherd Shoreline by calling (231) 780-2847 to schedule a consultation, or use this form.