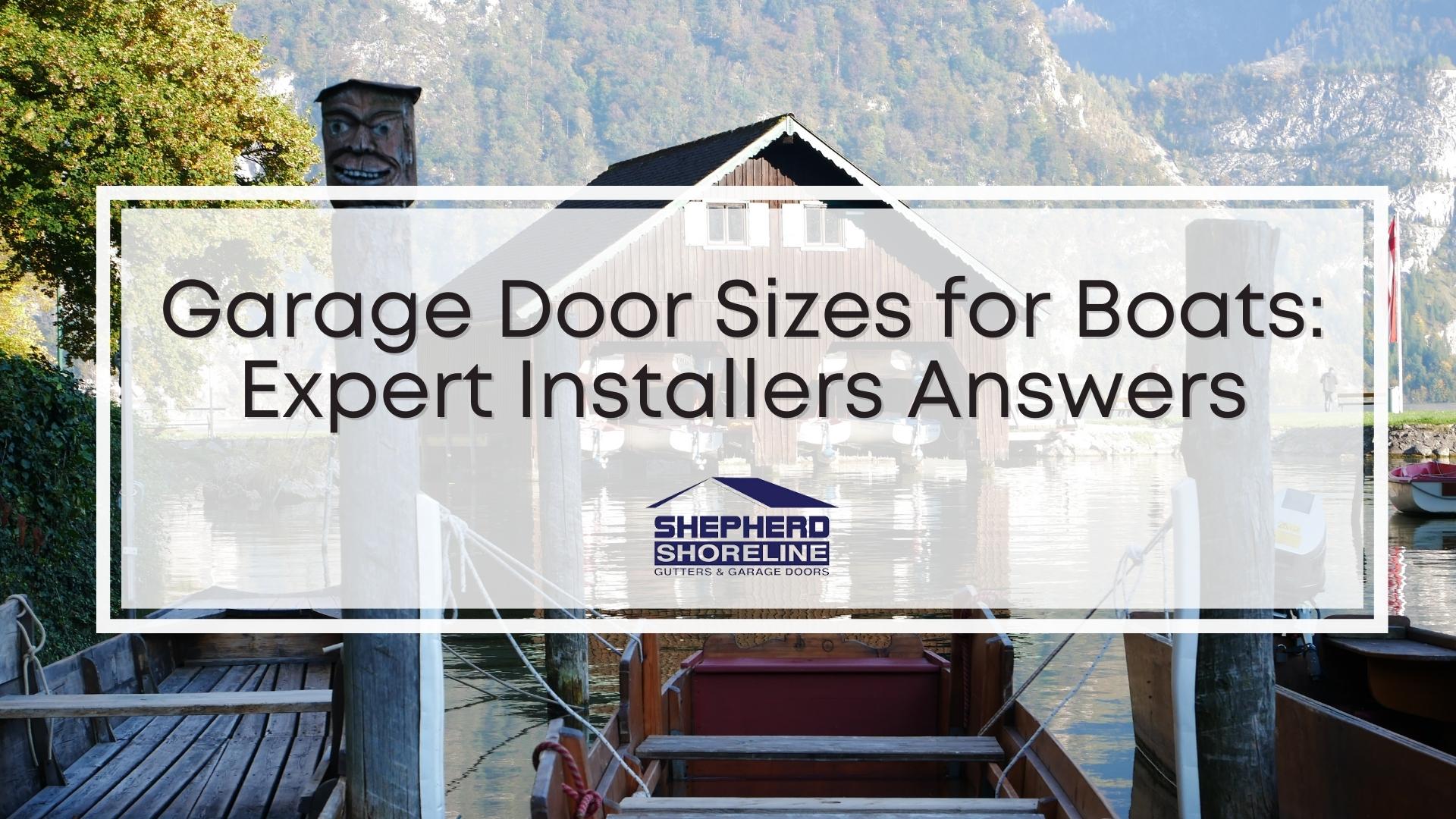 "What size garage door do I need for a boat?" This seemingly simple question can be quite complicated because boat garage doors come in all shapes and sizes. Fortunately, there are a few key things to consider that can help narrow down the options to make a final decision. Before we enlighten you with the best size garage door for your boat, let's first make sure that we're on the same page:
What Is a Boat Garage?
A boat garage is a storage facility designed to store boats. The options for boat garages will vary, depending on the location and/or destination. It's integral to have a boat garage that is large enough to accommodate your boat's size and style. 
There are two main types of boat garages: attached to your house or a storage facility. Having a boat garage at home with a waterfront is the most convenient option for those who own smaller vessels. Those with larger boats, though, will often need to store them at a storage facility that offers boat garage space.
Boat Storage Garage vs. Boat Garage
There are pros and cons to consider when selecting an option for boat storage, depending on needs and convenience. Here are the main differences to note:
Boat Storage Garage: A storage unit for a boat with typically no direct access to water. This option is usually more affordable and a good option for basic storage without the extras.

Boat Garage: Often a bigger facility that stores boats and usually has direct access to water. The facility will commonly have extra features, including a boat lift, for added convenience.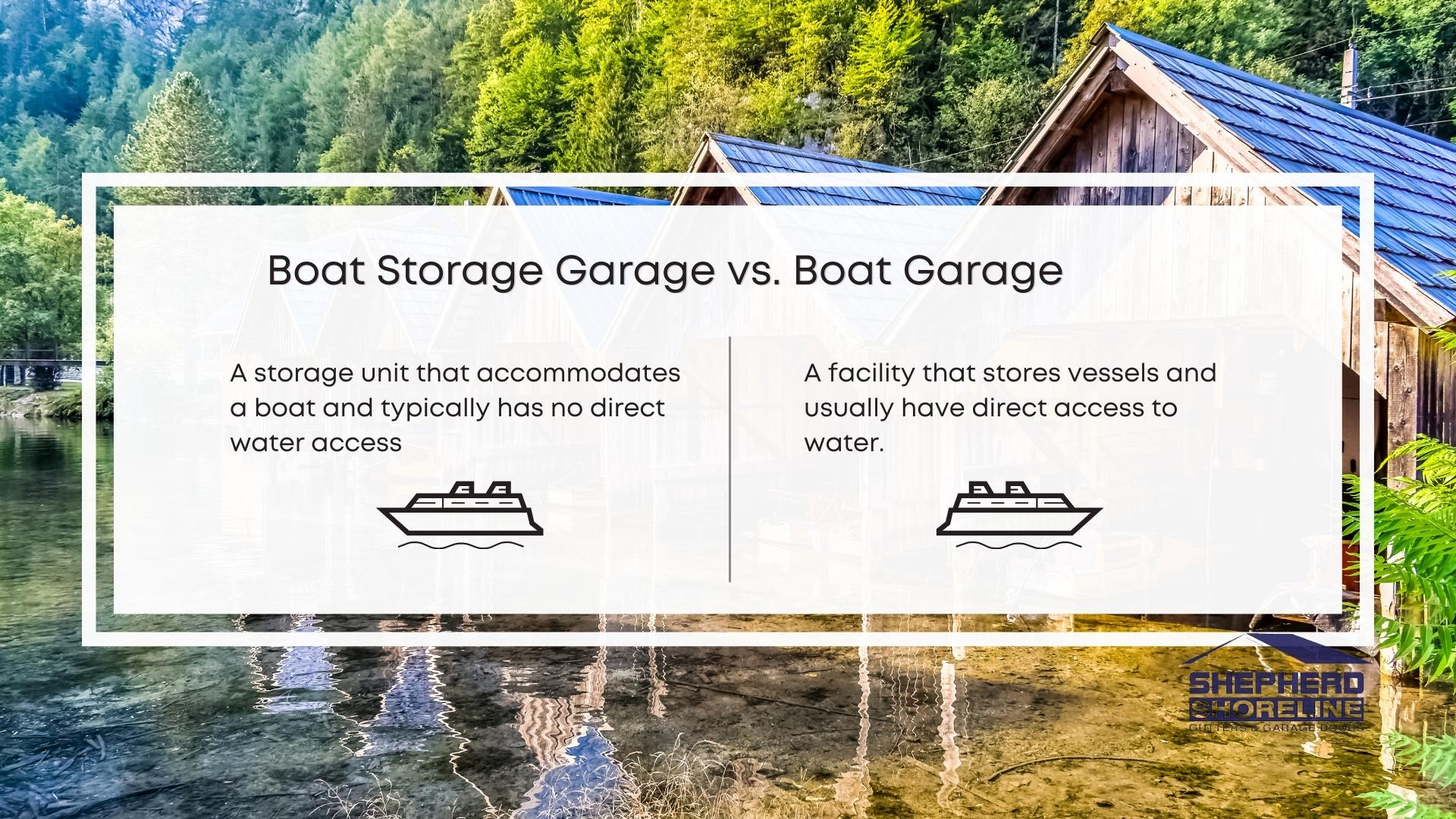 Garage Door Sizes for Boat 
The size of the garage door you need for your boat will depend on the size of your ship. As a rule of thumb, you need to add about two feet to the length and width of your boat to get the minimum size garage door you need. For example, if your vessel is 20 feet long and 10 feet wide, you'll need a garage door at least 22 feet long and 12 feet wide. 
You must also factor in the boat's trailer, which can add a few feet to the length and width. The height of the garage door is also important, but it's not as critical as the length and width – that is, you can always open the garage door partially to get your boat in and out. 
However, you still must ensure that the garage door is high enough so that you can comfortably walk under it when entering and exiting the garage.
A boat garage door typically ranges from 8 feet to 16 feet in height, so you should be able to find one that fits your boat's needs. Below are examples of boat sizes and the corresponding garage door size:
| | |
| --- | --- |
| Boat Size | Garage Door Size |
| Class A vessels (boat length of fewer than 16 feet in length, up to 6.5 feet in width) | Minimum of 10 feet by 8 feet |
| Class 1 vessels (boat length of 16 to 26 feet, up to 7 feet in width) | Minimum of 12 feet by 10 feet |
| Class 2 vessels (boat length of 26 to 40 feet, up to 9.5 feet in width) | Minimum of 22 feet by 12 feet |
| Class 3 vessels (boat length of 40 to 65 feet, up to 12 feet in width) | Minimum of 24 feet by 16 feet |
Example: If you own a pontoon boat – typically about 18 to 25 feet long and 8 to 10 feet wide – you will need a garage door that is at least 20 feet long and 10 feet wide. A garage door size for a pontoon boat this big will allow you to store your boat and trailer inside the garage comfortably.
How Expensive Is a Boat Garage?
The cost of a boat garage will depend on its size and material. The average boat garage costs between $5,000 and $30,000. Your vessel's size is the biggest factor that will impact the price. The larger the boat, the bigger the garage you will need – and the more expensive it will be.
The type of boat garage door material is also a factor. For instance, a garage door size for a pontoon boat made of wood will be more expensive than one made of steel. Another factor that can impact the cost is whether you build the garage yourself or hire someone to do it for you. 
You can likely cut labor costs and build the boat garage yourself if you're handy and have experience with construction. Otherwise, it is advised to hire a professional.
We Install Boat Garages
If you need help installing your boat garage door in Muskegon, MI, reach out to Shepherd Shoreline. We can also accommodate almost all Grand Haven garage door requests within a day. We will work with you to find the right garage door for your needs and ensure it's installed properly. Reach out to us today to get started | Call us at (231) 780-2847.