Gearing up for work only to find out that your garage door is not working can be a nightmare. Figuring out the source of the problem is even more so! Fortunately for you, we're here to help. 
There are endless reasons for a garage door not to function. It could be a mere wiring issue or that your remote's battery ran out of juice. Instead of giving every troubleshooting method a try, save your time by knowing the most common garage door problems below.
Table of Contents
Ten Things to Check When Your Garage Door Is Not Working
Ten Things to Check When Your Garage Door Is Not Working
These ten are the most common problems you might face whenever your garage door malfunctions. They are also easy to inspect, so it's great for anyone who's not that much of a handyperson. If none of these work, that's the only time we'd recommend hiring a professional. 
Disconnect Switch Enabled
Let's start with probably the most common one that people miss – the disconnect switch. All garage doors come with a device to disconnect the opener. It's a safety feature that allows you to tinker and manually open your garage door. Sometimes it's a switch, knob, button, or cord that allows you to disconnect the door. Check if it's enabled. If it is, switch it back to automatic or disable it, and your garage door should be back to normal.
Sensor Blocked
The majority of garage doors nowadays have a sensor that detects anything, or anyone, blocking the door from operating correctly. It's there to prevent damage to the door, an object, or a person. Check the eye of the sensor to see if something is blocking it or its cord is cut or damaged. A simple clean-up should do the trick.
Remote Control
Continuing with the simple reasons, it could be that your remote's battery is out of energy. Another thing is connectivity. Make sure that bulky objects are not blocking the garage door antenna, and make sure you are close to it when using the remote. If the door opens using your wall switch, and you've already replaced the battery, the remote itself could be the problem. A quick reprogramming or buying a new one from the manufacturer should do the trick.
Garage Door Blockage
If the door is automatically reversing itself while opening, it could be that something is blocking its way. Garage doors are programmed to reverse when they detect an obstacle automatically. Check the tracks for anything that could be blocking the door. Sometimes we miss those small things, so be thorough.
Power Source 
You'd be surprised how often a garage door is unplugged by accident. It's common for us to trip over cables sometimes and not bother if it disconnected or loosened the plug, so a quick wiring inspection should resolve your problem instantly. If it won't, but you still suspect power might be the issue, try testing the socket with other electronic devices. If your garage door is not working despite the outlet functioning, the problem could be something else.
Sensitivity Settings
If you or a garage door installer installed your garage door recently, the sensitivity might be a little too low. Unadjusted sensitivity can cause the door to malfunction. Check your garage door's manual to see the manufacturer's recommended level. You may also call the installer again for assistance. 
Limit Settings
If your door is closing and opening up right away, then the limit settings for the sensor could be off. You can fix this yourself with ease. Check your owner's manual to see where the limit switch adjustment is located, and change it accordingly. A turn of the screw is about 2 inches of door movement, so you'll have to play around with it to get the right setting.
Track Misalignment
If you hear odd noises when the garage door is trying to open, like friction or squeaks, it could be that the metal track – rollers and rail – is misaligned. You may see gaps or tight spaces over time due to the door's weight. 
If your garage door still moves, you may fix this yourself. Albeit tedious work, you can do it with a rubber mallet, vice grip, or pliers. All you have to do is ensure that the roller is secure on its tracks. So you either have to hit the rail using your mallet if it's too loose, or you can stretch it using pliers if it's too tight. 
Broken Springs
If you hear a loud pop sound, like a firework or a gunshot, then that probably means the springs of your garage door have broken. Garage door springs have a certain amount of cycles, typically around 10,000 cycles, before you need to replace them.

Don't try to open the door or repair it yourself if this is your issue. Broken springs can be dangerous. Contact a professional instead.
Snapped Cables
Like the springs or other more intricate garage door parts, the cables that help the door open can snap after years of use, months if not properly maintained. If that happened while the door was opening, it would immediately shut, which can be dangerous. You should leave fixing snapped cables to professionals to avoid accidents or more damage to your garage door.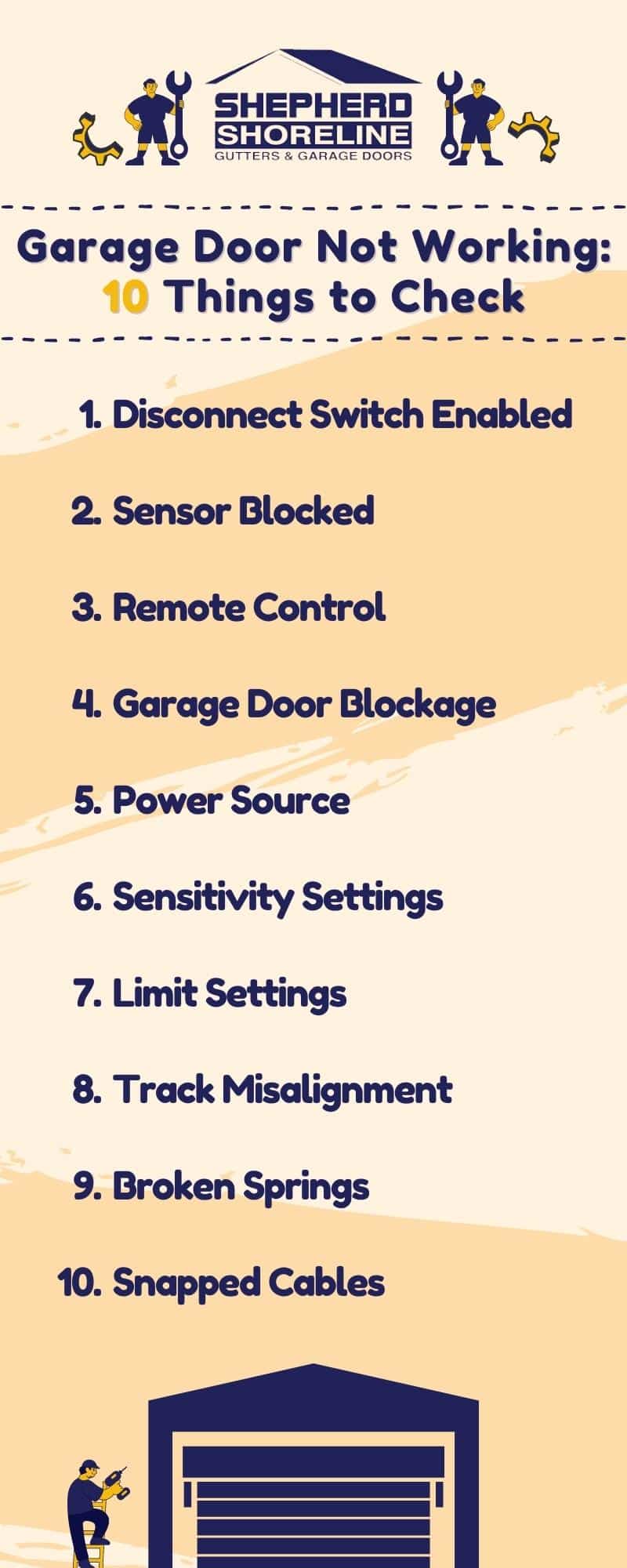 Closing Up
If you went through this list and still can't identify the issue, it's time to call a professional. There's no need to stress about why your garage door is not working when you have more important things to do. Leave the heavy lifting to us.
Here at Shepherd Shoreline, we can fix your garage door quickly and make it work like brand new. We're affordable and have been in the garage door repair and installation industry for over 50 years in Muskegon, Allendale, and surrounding areas. Contact us today at (231) 780-2847!