Fruitport Garage Door Installation & Repair
Serving the Fruitport, MI area for over 50 years. Call us for Garage Door Installation & Repair.
Shepherd Shoreline is a trusted and reliable provider of garage door solutions in Fruitport, Michigan, offering high-quality garage doors sourced from reputable manufacturers. With a commitment to excellence, our expert team of technicians is equipped to handle comprehensive garage door installation, repair, and maintenance services tailored to meet residential and commercial requirements. Our dedication to quality and customer satisfaction sets us apart as a reliable choice for all your garage door needs.
Shepherd Shoreline Services
Fruitport Garage Door Installation
Shepherd Shoreline excels in delivering high-quality garage door installation services. Whether you're looking to enhance the aesthetic appeal of your home or seeking a durable and efficient garage door solution for your business, our team of seasoned professionals has the expertise to guide you through the selection process and ensure a seamless Fruitport garage door installation.
Fruitport Garage Door Repair
If you're facing garage door issues, Shepherd Shoreline is ready to provide efficient and effective repair services. From faulty garage door openers to damaged components, our experienced technicians have the skills and knowledge to diagnose problems and swiftly restore the optimal functionality and security of your Fruitport garage door.
Fruitport Maintenance Services
Shepherd Shoreline places a strong emphasis on preventive maintenance to prolong the life of your Fruitport garage door and ensure smooth operation. We offer regular maintenance and tune-up services to identify and address potential garage door issues before they escalate, helping you avoid unexpected breakdowns and costly repairs.
With an impressive 50 years of experience in the industry, Shepherd Shoreline has become synonymous with quality and expertise in garage door installation, repair, and maintenance services. Whether it's a single-family home or a commercial establishment, our team has the experience and resources to meet your Fruitport garage door requirements, providing tailored solutions that prioritize security, efficiency, and aesthetic appeal.
Why Choose Shepherd Shoreline?
Experience unparalleled Fruitport garage door services with Shepherd Shoreline. Whether you need garage door installation, prompt repairs, or comprehensive maintenance, our expert team of professionals has got you covered. Our comprehensive solutions are tailored to meet your unique needs, contributing to the seamless operation of your garage doors. When you choose us, you're not just selecting a service provider – you're investing in peace of mind. 
Professional Technicians.

Shepherd Shoreline takes pride in our team of experienced professional technicians who are well-trained, ensuring your Fruitport garage door installation, repair, or maintenance is carried out with precision and efficiency. Their friendly demeanor adds a personal touch to the service, making your interactions positive and reassuring. The fact that the experts are insured provides an extra layer of security, giving you peace of mind in case of any unexpected circumstances.
Quality Garage Doors.

When it comes to garage doors, quality matters. Shepherd Shoreline prioritizes the use of garage doors from trusted brands known for their durability and functionality, including C.H.I. Overhead Doors, Mid-America Door, and Amarr Garage Doors. Rest assured that when you choose us for your Fruitport garage door needs, the products installed not only meet but exceed industry standards, providing you with a guarantee of exceptional quality.
Timely Service.

Prompt and efficient service is a hallmark of Shepherd Shoreline. Whether it's installing a

new garage door

, repairing a malfunction, or conducting routine maintenance, our Fruitport garage door experts understand the value of your time and strive to complete projects within the agreed schedule without compromising on the quality of work. You can rely on us for timely responses to service requests, minimizing downtime and inconvenience.
Customer Satisfaction Priority.

Shepherd Shoreline understands that customer satisfaction is the foundation of our success. From the initial consultation to the completion of the service, our Fruitport garage door professionals are dedicated to meeting and exceeding your expectations at every stage of the process. We guarantee open communication, transparency, and a focus on delivering solutions that align with your unique garage door needs and preferences, ensuring that you're not only satisfied with the result but also with the entire service experience.
Fruitport is a quaint and charming town located in the western part of Michigan, which offers a unique blend of hospitable ambiance and natural beauty. The area is characterized by its tree-lined streets, well-maintained homes, and a sense of community pride. Residents often take pride in the small-town atmosphere where neighbors know each other, and there is a sense of camaraderie among the locals.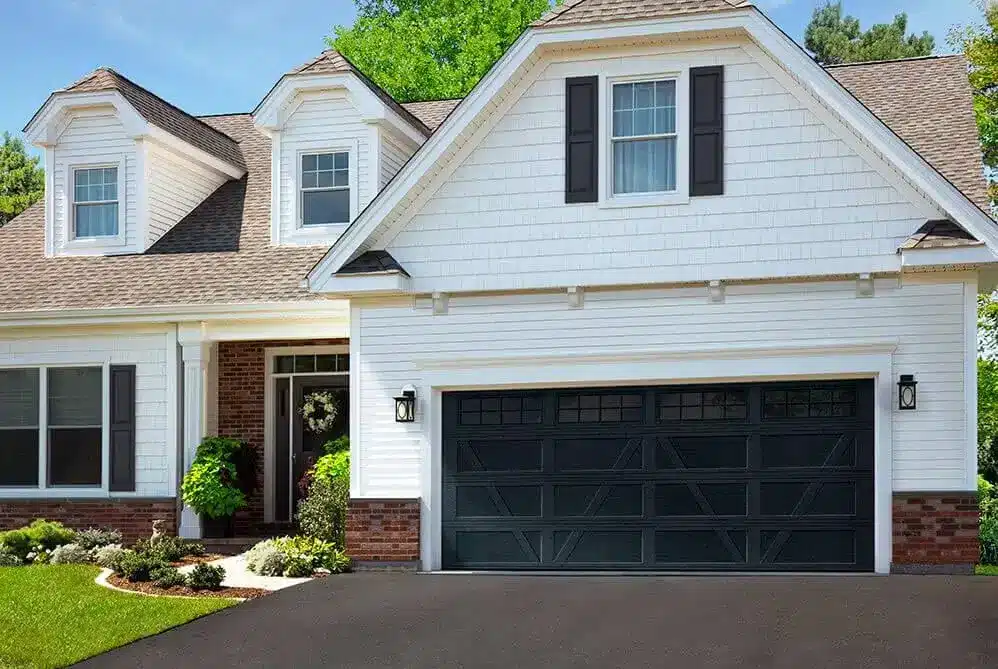 The town provides access to several parks and recreational areas, allowing residents to connect with nature and enjoy the great outdoors. Pomona Park, for example, offers a beautiful waterfront setting with walking trails, picnic areas, and a playground. It's a favorite spot for residents to unwind and enjoy the natural surroundings. P.J. Hoffmaster State Park is an excellent destination for hiking, bird watching, and experiencing the diverse ecosystems that the region has to offer. 
Fruitport takes pride in its well-maintained and picturesque surroundings. A well-kept home, equipped with an aesthetically pleasing garage door, contributes to the overall visual appeal of the neighborhood, which, in turn, helps preserve property values and ensures that the community remains an attractive place to live. In addition, harsh winters with snow and ice are common in the area. A functional and reliable garage can protect your vehicles and other belongings from the elements, ensuring they remain in good condition. Let our Fruitport garage door installation and repair professionals here at Shepherd Shoreline guide you in finding the perfect garage door that not only safeguards your property but also enhances its curb appeal.
Shepherd Shoreline extends its comprehensive garage door solutions to a wide range of communities surrounding the inviting town of Fruitport, including Grand Haven, Whitehall, Coopersville, and other neighboring areas. Each locality boasts a unique charm with a mix of architectural styles, ranging from historic structures to modern designs, contributing to a diverse and vibrant local landscape. 
Whether it's enhancing the curb appeal of homes in Fruitport or supporting the operational efficiency of businesses in a neighboring region, we ensure these interconnected communities can benefit from our commitment to elevating both the visual appeal and functionality of garage doors through professional and timely garage door services.
Call For A Quote:
(231) 780-2847
Commonly asked questions about Garage Door Installation and Repairs.
My car is stuck in my garage! How do I get my garage door open?
It depends on what is wrong with your garage door. Please call us at (231) 780-2847 and let us know what problem you are having. If we need to come out to complete a repair, we will try to get out to your house as quickly as possible.
How much does a new garage door cost?
Anywhere from $1,000 to $10,000. The cost is going to vary greatly based on the materials you choose, the customizations you would like, and whether or not any structural changes will be required. Some questions to consider:
Do you need us to remove and dispose of an existing garage door?
Do you need the existing garage door opening resized?
Is the existing hardware still good or does it need to be replaced?
Do you want a manual, or automatic garage door?
Is the material Wood, Steel, Aluminum, Fiberglass, or Vinyl?
Do you want any customizations such as Windows, Trim/Panels, barn door style, etc.
Is it a one or two-stall garage door?
How much are garage door repairs?
The cost to repair a garage door depends on whether it's the actual door that needs to be repaired, the opener, the springs, or possibly the tracks. Generally speaking, you can expect the cost to be between $150-$300, but again this is going to depend on your unique situation.