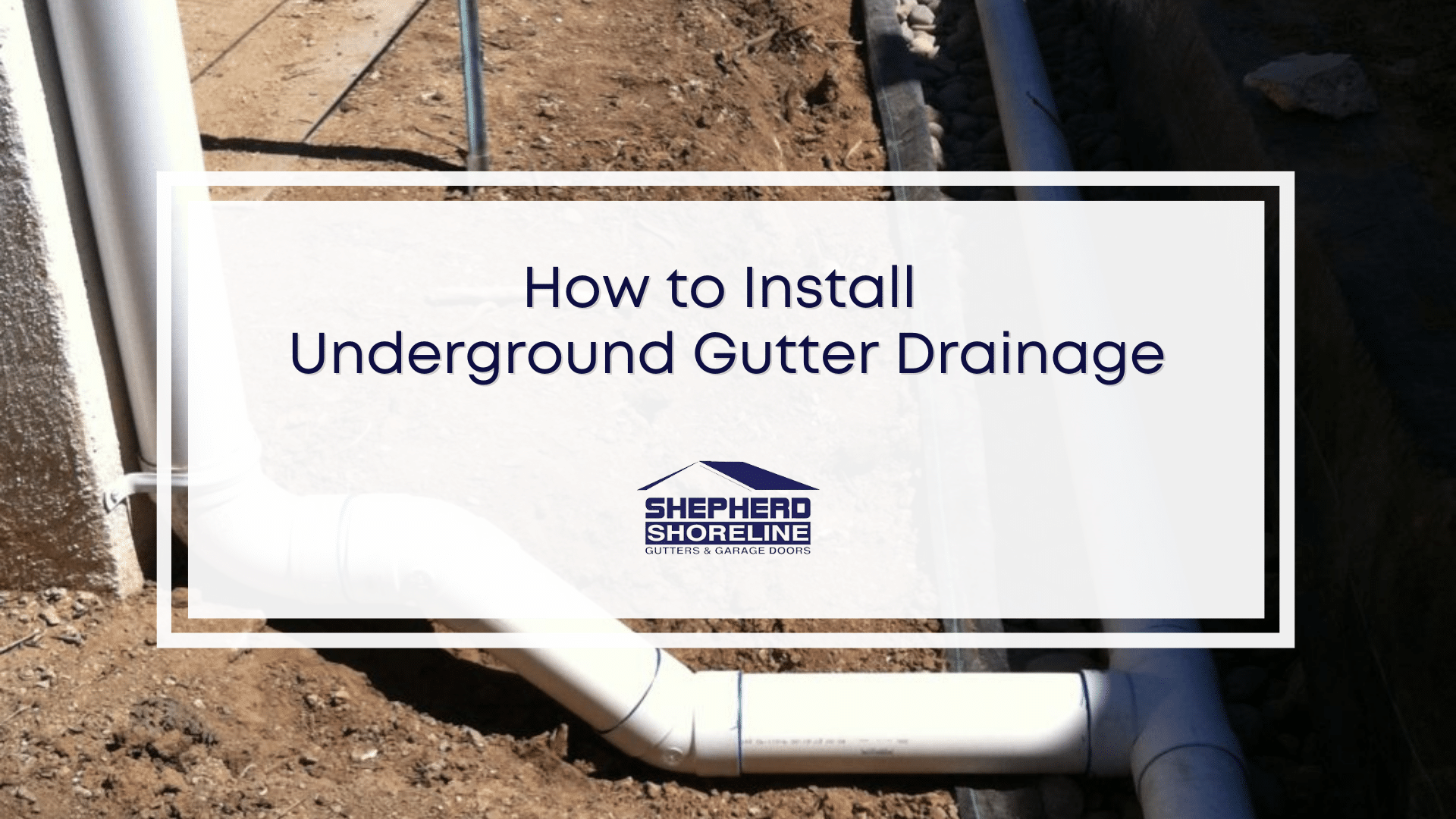 Installing an underground drainage system is complex and tedious. Most of the time, it's best to leave the job to professionals, like Muskegon gutter experts at Shepherd Shoreline. One main reason is that government laws and policies regulate drainage systems. For instance, Michigan's Residential Code lists the requirements and regulations for all drainage systems. 
A poorly installed drainage system can lead to various water-related issues affecting your home's structure and foundation. However, if you have the necessary skills and knowledge for this project, our experts will walk you through the steps in this article. This guide is also helpful if you're working with a professional on your house plan so that you can understand and keep up with the project.
Importance and Benefits of Gutters and Underground Drainage Systems
Gutters collect rainwater from the roof and channel it down through vertical downspouts. Some homeowners simply let nature take its course and allow runoff water to flow wherever it wants or leave a pool of stagnant water next to their homes. Some use open drainage, which uses uncovered channels or ditches. Unfortunately, these options are unsanitary, unappealing, and detrimental to your property and home. 
As a much more appealing option, underground drainage serves your house's aesthetic and functional needs. Properly installed gutters and underground drainage systems work together for efficient wastewater management. It has a catch basin that channels the runoff water down a series of underground pipes that lead the water away from your property.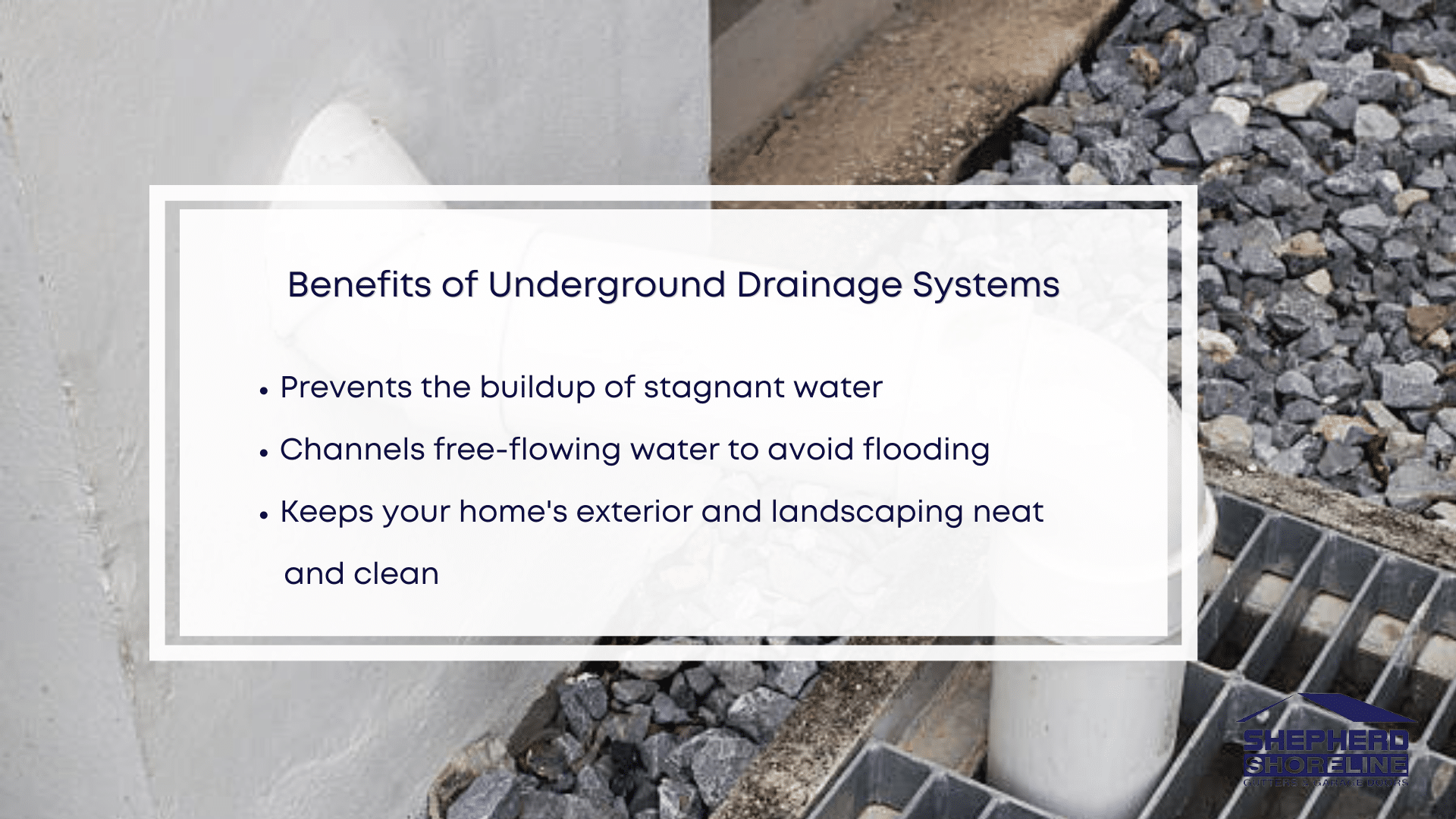 A well-designed underground drainage system has many benefits. Here are some of them:
Planning and Preparation
Familiarize yourself or work with professionals who know Michigan rules and codes on drainage systems. Local laws specify the pipe, tube, and fitting sizes, as well as the materials allowed in a drainage system. 

Conduct a site survey and begin planning the pipe route. This step is crucial, and you need to consider factors such as the slope of the land, average rainfall in the area, soil type, and more. 

Plan your trench to collect the most water while avoiding underground utility lines. 
Steps for Installing the Underground Drainage System
Begin digging your trench with a shovel, ensuring it can accommodate your drain pipe. To protect your trench, line it with landscaping fabric and pour gravel as the bedding for your pipe.

Create a slope for the pipe to make your drain work. Most experts recommend a slope of at least one inch for every ten feet of pipe.

Start setting the pipe system to your planned route. Check if the gravel bed is high enough to support the pipes. Continue extending until you reach the location of the downspout. 

Securely attach the pipe to the side of the catch basin. The "drain gate" or catch basin is installed above the trench and directly on the downspout to keep debris, leaves, and other items from entering the pipes. 

Test the drainage flow by pouring water into the catch basin. Once satisfied, you can cover the trench with gravel and a second layer of landscape fabric. Then, add a layer of topsoil and some grass or seed for a seamless look.  
Tips and Best Practices
Consult with experts before beginning the installation, especially regarding local regulations.

Learn to

winterize your gutters

and protect your pipes during cold weather. 

Catch basins, pipes, and joints should be installed as tightly as possible to avoid leaks.

Inspect and regularly clean the catch basin, drain outlet, and the end of your pipe system. 

If your downspout connection pools or overflows, try hydro-jetting, cable rodding, or better yet, call the pros to unclog it. If your gutters are clogged,

try a gutter sucker

. 
Let Us Install Your Underground Drainage for Gutters
Keep your yard from turning into a wet mess, and don't put up with the unsightly disaster of stagnant, unclean water. If you're considering underground drainage for gutters, it's best to let our team of skilled Muskegon gutters professionals at Shepherd Shoreline handle the job. Our experts will provide excellent service and guide you through the process. Contact us here or call (231) 780-2847 to schedule a consultation.