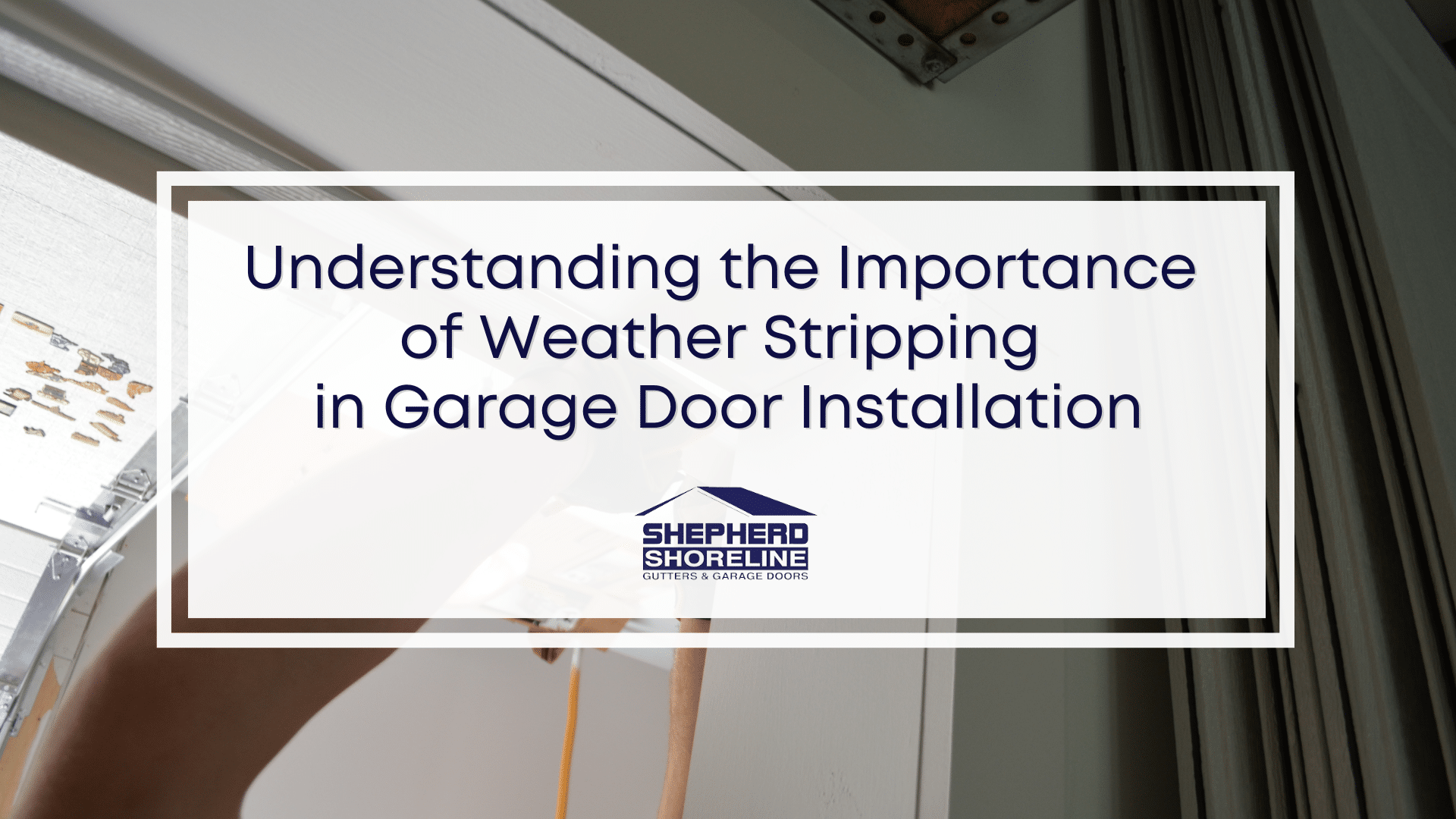 Weather stripping is essential for garage door installations, particularly in Muskegon, where hot, humid summers and extremely cold winters last for months. Weather stripping seals the garage door, retaining air and heat inside, thereby regulating the temperature and reducing energy consumption. In addition, a good and reliable weather strip prevents drafts that can result in moisture-related damage. At the same time, it keeps snow, ice, dirt, and other debris from entering your garage. 
There are many more benefits to weather stripping your garage door. In fact, any garage door installation professional would always recommend it during installation. In this article, we'll go through the basics of weather stripping, from its benefits to installation, maintenance, and many others. 
What Is Weather Stripping?
Weather stripping seals gaps around doors and windows with a long strip of material or a formed piece to keep out weather, debris, pests, and other elements. By sealing the gaps shut against harmful and damaging outside elements, weather stripping safeguards your garage, maintains the stability of your garage door, and keeps the air inside. As a result, investing in high-quality weather strips for your garage door will save you money on repairs down the road. 
Depending on your garage door requirements, various types of weather stripping materials are available, such as the following:
Materials
Key Features

Vinyl

Among the most popular choices because they are flexible and easy to install

Durable and effective

Available in a variety of sizes and installation methods

Reinforced Foam

Can be challenging to install since it needs to be sawed, shaped, and painted

Effective and did very well in wind tests  

Available in varying widths and thicknesses

Great for irregular-sized cracks

Felt 

Easy to install and inexpensive

Low durability and may need to be replaced every 1-2 years

Not advisable to be used in areas exposed to moisture or with excessive abrasion

Rubber

Durable but also a bit pricey compared to others

Insulates well but can be challenging to install
Benefits of Weather Stripping in Garage Doors
Garage door weather seals are worth the investment because of their many advantages. Some of the benefits of weather stripping are:
Enhanced Energy Efficiency
Weather stripping your door reduces air leaks and drafts, which helps insulate your garage. As a result, your heating, ventilation, and air conditioning (HVAC) system doesn't need to work as hard to maintain the temperature, saving energy costs. In fact, ENERGY STAR estimates that air sealing can reduce HVAC costs by 15%. 
Protection Against Water, Dust, and Pests 
Water and flooding can be kept out of the garage by installing weather strips around the door's edges. This protects your properties against water damage, mildew, and mold growth. Additionally, weather strips serve as a barrier to prevent dust from entering the garage, keeping the space neat, pest-free, and secure for your belongings. 
Reduction In Noise Transmission From Outside
Weather stripping is another good way to block outside noise. Tightly sealing the door's edges blocks sound waves from entering your garage. Many materials, such as rubber and high-density foam tape, absorb or reflect sound waves, preventing them from entering the garage. 
Extended Garage Door Lifespan
Weather stripping prevents flooding or freezing under the garage door, which always causes damage and compromises the door's stability. Additionally, weather stripping keeps moisture out, preventing rust and corrosion on the door and its components. As a result, this can extend the door's lifespan and make it less likely to need repairs.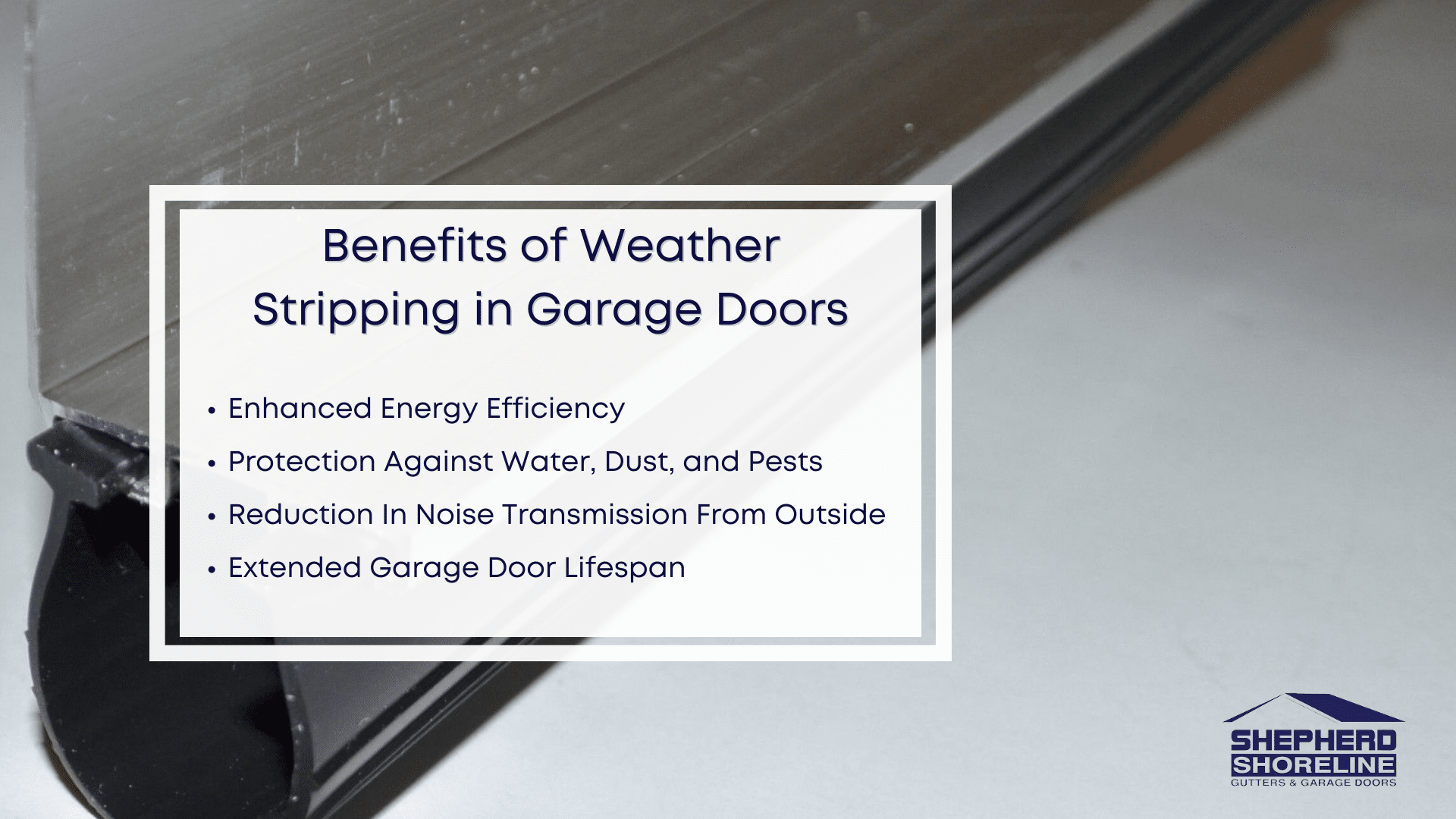 Weather Stripping in Garage Door Installation
Here is some important information about weather stripping garage door: 
Weather Stripping Components
Depending on the intended use, weather stripping can take many forms. Here are some of them:
Components
Features

Bottom Seal

Attached to the bottom edge of the garage door

Compresses when the door closes, sealing the gap along the floor

Usually made of rubber or vinyl

Threshold Seal

Raised seal that is attached to the floor and works with the bottom seal to create a double barrier

Side and Top Seal 

Installed along the sides and top edge of the garage door to create a tight seal

Weather Stripping Brush

Attached to the bottom of the garage door to keep out dirt and debris
Preparation Before Weather Stripping
Keep this preparation in mind before you begin weather stripping your garage door.
Weather strips should be applied to clean, dry surfaces above 20°F (-7° C).

Remove any old weather strips and thoroughly clean the surfaces. 

Measure the weather-stripped area twice before cutting. Make sure the materials compress when the door closes. 
Weather Stripping Tips
Weather stripping depends on the garage door type. Based on garage door type, here are some weather stripping installation tips:
Sectional Doors. Use V-shaped or self-adhesive strips that match the panels' width and color. Then, cut the weather strip to fit the length of each gap between the panels and press it firmly into place. Secure the weather strip to the door edge with screws, nails, or tape. 
Up and Over Garage Doors. For up and over garage doors or swing doors, ensure the weather strip seals the door edge when closed. To install the weather strip on the bottom edge, measure the width of the door and cut a bottom sweep to fit. For the top and side edges, measure the door frame and cut the weather strip to fit snugly. Then, attach the weather strip to the door frame using screws or nails.
Roll-Up Doors. To install weather strips on a roll-up door, measure the width of the bottom slat of the door and cut a bulb seal to fit. Ensure the bulb seal forms a round shape that seals against the floor when the door closes. Then, cut brush seals or weather strips that fit snugly for the sides and top edges. 
Ensuring Proper Alignment and Sealing Effectiveness
After weather stripping, test the door's operation and check for gaps or leaks. You may need to caulk any gaps or seams to ensure sealing effectiveness. Also, check the door's sensors to see if the door is misaligned after the weather strip installation. Then, adjust or replace any weather strip that is not aligned or effective.
Choosing the Right Weather Strip for Garage Doors
Not all weather stripping is the same. Keep the following considerations in mind when selecting garage door weather strips:
Type of Door
Different doors have different shapes, sizes, materials, and mechanisms that affect their opening and closing. For example, a sectional door that rolls up and down may need different weather stripping materials than a swing-out door that hinges on the sides. These factors can influence the type and amount of weather strips required to create a tight and effective seal around the door.
Material
Each material has advantages and disadvantages, so select the one that best meets your needs. Rubber, for instance, is durable but can be challenging to install. Meanwhile, vinyl is easier to install but not as durable as rubber. Furthermore, you need to consider your location when choosing a suitable material. For example, if you live in regions that can experience harsh weather, foam may not be a good choice.
Size of the Gap
Accurate measurement of your garage door is crucial when fitting a weather strip to achieve a tight seal between the door and the floor. To ensure an optimal fit, measure the gap carefully and choose a material that matches the height and width of the measured gap.
Durability, Weather Resistance, and Compatibility
According to the Department of Energy (DOE), a good weather strip should seal well when the door or window is closed but allow it to open freely. It should be durable enough to withstand its location's climate, friction, and wear. It should also be compatible with your door type and suit your needs. Here are the things to consider:
Good Quality Materials.

The weather stripping material should be durable and weather-resistant. 

Designed for Your Door Type.

Using the wrong weather strip for your garage door type may lessen its effectiveness and will most likely damage easily.

Installation.

No matter what weather stripping material you choose, it is important to have it installed properly.

Garage door weather strips should be securely attached to the door or floor using screws, nails, adhesive tape, or concrete fixing screws. 

Warranty.

Garage door installation services in Muskegon can help you take advantage of warranty repairs. 
DIY Installation Vs. Professional Installation 
When deciding whether to DIY or hire a professional, it's best to weigh the pros and cons and choose which works for you. Here is the comparison: 
| | | |
| --- | --- | --- |
| | DIY Installation | Professional |
| Cost | It may be less expensive than hiring a professional. However, if you're not skilled and prepared, you might need to purchase more tools and equipment, which can add to the cost. | It may cost more upfront. However, garage door installation professionals can ensure the weather stripping components are installed correctly, saving you money in the long run. |
| Time | DIY installations are typically time-consuming. | Professionals can complete the installation in a much shorter amount of time. |
| Skill level  | It can be challenging for those lacking basic home improvement skills. | Professionals have the skills and experience to do the job correctly and efficiently. |
Maintenance and Replacement of Weather Strips
Some new doors have factory-applied weather strips. Still, they can wear out over time due to exposure to sunlight, moisture, temperature changes, and friction. For this reason, it's crucial to conduct regular maintenance and replace worn-out weather strips. Here are some details to consider:
When to Consider Replacing Weather Strips
It's recommended to check your weather stripping components at least twice a year, especially at the start of hot summers and cold winters. You'll know it's time to replace your weather strips when you notice the following signs of damage and wear and tear:
Light peeking from the edges

Breeze or draft from outside coming in

Damaged sections or components 

Puddle of water near the door
Steps for Replacing Weather Strips On Garage Doors
If you decide to replace the weather strip on your garage doors, here are some basic steps you can follow:
Remove the old weather strip from the frame using a hammer, a flathead screwdriver, or a pry bar. Peel the old seal and remove any screws. 

Remove the old glue or adhesive by brushing it with soap and water or using a putty knife.

Brush and clean the surfaces ensuring they're smooth and debris-free.

Measure and record the gap size along both sides and the top of the door.  

Choose a suitable weather strip that matches the size of the gap.

Cut the new weather strip to length, insert it in the groove, or attach it with screws or adhesive. 
Weather Strip Your Garage Door Today
Improper garage door weather stripping can lead to leaks and gaps, allowing the elements and pests into your garage. Thus, hiring a professional to install weather strips gives you peace of mind, knowing the job will be done correctly.
It's best to go for garage door installation services in Muskegon that are experts in the climate and other considerations. Trust our experienced garage door installers at Shepherd Shoreline to provide the best service and advice on weather stripping garage doors. Contact us here or call (231) 780-2847 to schedule a consultation.