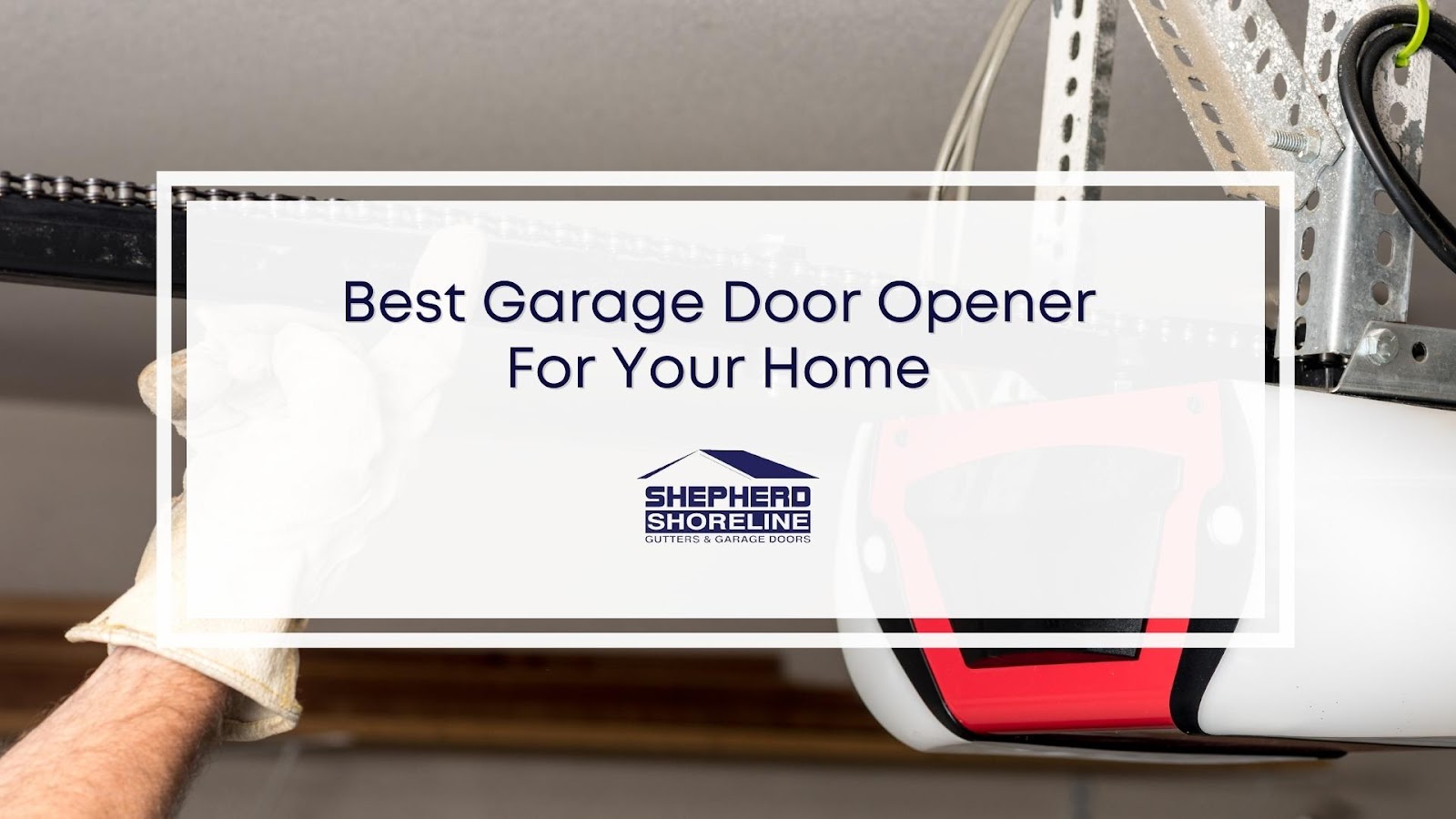 There are several factors to consider when choosing a garage door opener. Do you want one that's whisper-quiet, or do you prefer something with more power? Perhaps you're looking for a model that you can operate remotely or one with a built-in camera. There are several options to choose from, and each has its own set of benefits. 
No matter your needs, we've got the perfect garage door opener. Keep reading for our top picks!
Automatic vs. Manual Garage Doors
You must first decide whether you want an automatic or manual garage door opener. An automatic garage door opener is obviously more convenient, as it will open and close the garage door for you. Plus, its safety features are top-notch. It's definitely worth the investment for busy families or those with young children, even if it's more expensive.
On the other hand, a manual garage door opener is cheaper and often more reliable since it has no electrical components that can break down. Still, you'll need to physically open and close the garage door, which can be inconvenient.
Types of Garage Door Openers
Below are the three most common types of garage door openers with their pros and cons:
Chain Drive
A chain drive garage door opener uses a metal chain to move the trolley and opener. It is the most common type of garage door opener and also the most affordable, but it can be clunky and loud because of metal-to-metal friction and vibration.
Belt Drive
A belt drive garage door opener uses a rubber belt instead of a chain to move the trolley. It's much quieter than chain drives, but they're also $30-$60 more expensive. Belt drives are typically made of fiberglass, steel-reinforced rubber, or polyurethane.
Jackshaft Opener
Jackshaft garage door openers are a type of chain drive, but they are mounted on the wall rather than the ceiling. They're great for garages with limited space or high ceilings because of their 24v DC motor mechanism. However, they're also more expensive than traditional garage door openers.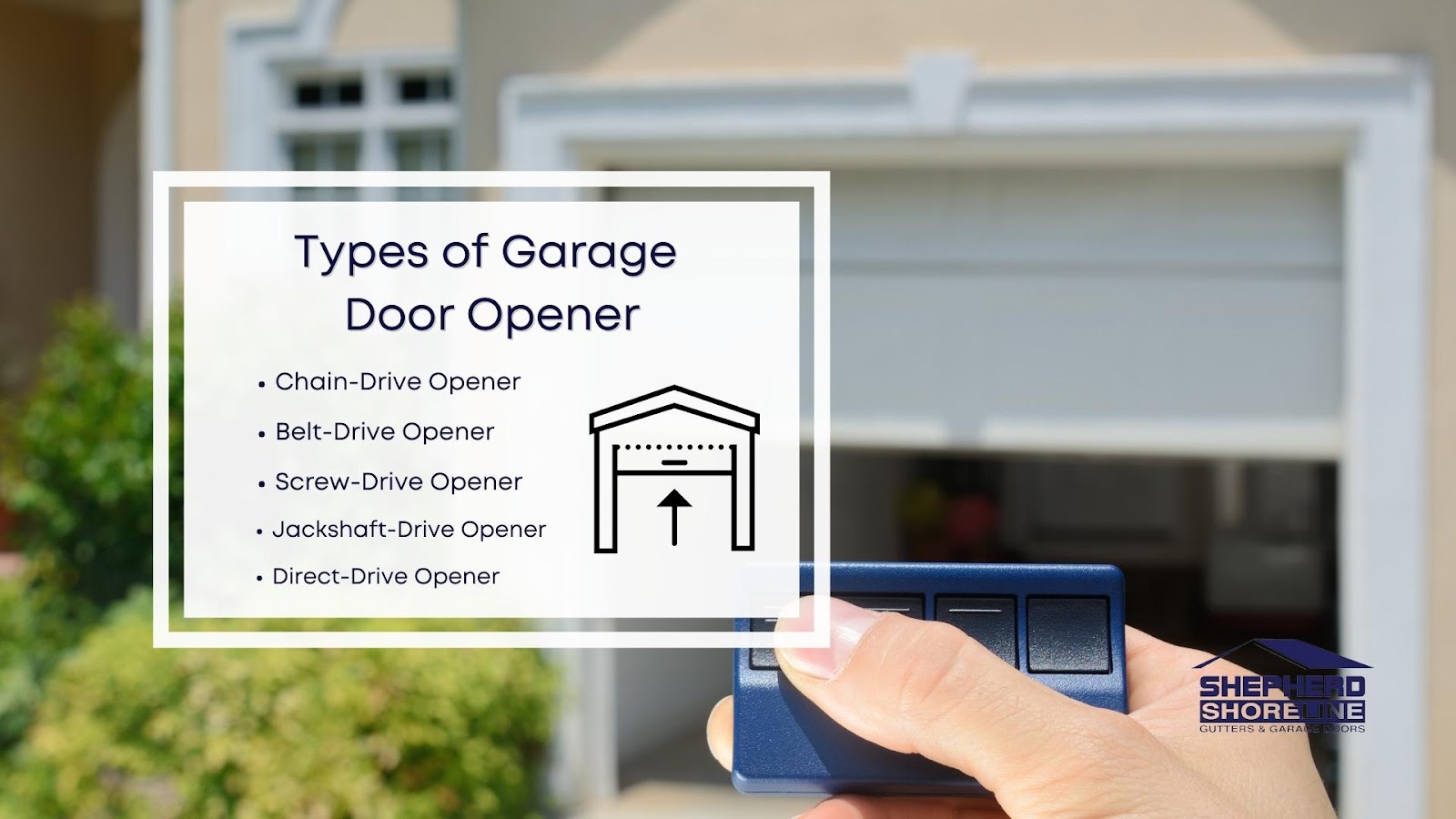 Things to Consider In Choosing Your Garage Door Opener
Once you've decided on the type of garage door opener you want, there are a few other factors to consider before making your purchase:
Power
Garage door openers come in different power levels, so choose one powerful enough to lift your garage door. You will need an opener with at least 1/2 HP if you have a double garage door. If you have a single garage door, though, 1/3 HP should do the trick.
Noise Level
Some garage door openers are noisier than others, so if you have an attached garage, you might want to consider a quieter model. A less noisy one is a great option if you use your garage as a workspace or if you open and close your garage door several times a day.
Remote Access
Some garage door openers come with a remote, while others don't. If you want the convenience of operating your garage door opener from anywhere, consider getting a model with a remote. You can also get garage door openers with a smartphone app to open and close your garage door from your phone.
How to Install A Garage Door Opener
Garage door opener installation is a fairly simple process. You'll need to:
Mount the garage door opener bracket on the ceiling using screws.

Attach the trolley to the garage door opener bracket and secure it with bolts.

Hang the power unit on the garage wall and plug it into an outlet.

Mount the control panel to the wall near the garage door.

Follow your garage door opener manual instructions to program the opener and attach the remote.
Follow these steps, and you'll have your garage door opener installed in no time.
Can I Do It Myself?
Most people can install a garage door opener on their own with little to no difficulty. Otherwise, if you're not confident in your DIY skills, you can always hire a professional to do it for you. Hiring an expert will save you time and ensure the job is done right.
Garage Door Experts That Can Help You
Get in touch with Shepherd Shoreline for all your garage door needs. We can help you choose and install the perfect garage door opener for your home using only the best products from top manufacturers like Linear and Liftmaster. So call us today at (231) 780-2847, and let us help you find the best garage door opener for your needs.